News releases
Work starts on new enterprise college
Building work has now started on a new world class centre at Freebrough Academy, sponsored by Teesside University, which is set to become a regional hub for the Peter Jones Enterprise Academy.
More information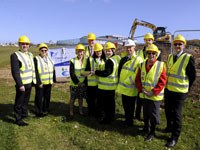 Freebrough Academy turf cutting for new Peter Jones Enterprise Academy
---
The scheme, named after the Dragon's Den star, is being pioneered at the Brotton Academy in what will be an ultra modern Post 16 hub for enterprise.

It is the first school in the country to work with the Peter Jones Academy – all other hubs have been within post-16 institutions – and Peter himself is delighted to welcome Freebrough to his official Enterprise Academy network.

Peter Jones says: 'We are delighted to welcome Freebrough Academy as the first school in the country to join our official Enterprise Academy network. Freebrough Academy were chosen due to their strong vision to embed enterprise throughout their school curriculum, which has already been exemplified so well through activities such as their six annual dedicated Enterprise days, the Future Leaders and Coca Cola challenges.

'We strongly believe that Freebrough Academy will be a great leading example for future schools who wish to join the Academy network not only because of their existing links with local businesses and council but also through their new Enterprise Hub which will offer inspiring and professional surroundings for their aspiring young entrepreneurs.'

Students from the Academy's Science and Engineering Club, and one of Freebrough's first ever post 16 students – who have been involved with the design of the enterprise centre, were chosen to cut the turf to mark the occasion.

The students were be joined by Linda Halbert, Academy Principal and Professor Graham Henderson CBE DL, Vice-Chancellor of Teesside University – the lead sponsor of Freebrough Academy.

Also present was Councillor Joan Guy and Matt Price, Operations Manager from the Carillion, the contractors.

Freebrough Academy has been allocated £2.6m from the Government's Academies programme to improve its facilities. Work is due to be completed in November when the new centre will open its doors. Although standing alone from the main academy it will share curriculum and staff.

The Peter Jones Enterprise Academy will specialise in teaching new, modern and exciting courses in business and enterprise, creative and digital media and engineering courses alongside more traditional learning. It will offer a mix of informal open plan areas as well as formal teaching spaces plus four business incubator units for new enterprises and large design workshop with printing facility.

Linda Halbert explains: 'This is a very exciting new development which will allow us to deliver our vision. We will be able to offer post-16 education as well as further developing our curriculum to give students a feel and flair for business and enterprise that will give them real work skills for their future. The business incubator units are a particularly exciting innovation and will provide the opportunity for young entrepreneurs to set up and run their own business with the support and guidance of experience business experts who have successfully done this.'

Professor Graham Henderson adds: 'This is a very significant step forward for the Freeborough Academy in pursuit of its ambition to become a centre of excellence in learning for everyone in the East Cleveland area. The new centre will provide local residents with even more opportunities to change their lives and prospects in what will be a truly inspirational educational environment.'

Redcar & Cleveland Borough Council's Cabinet Member for Children's Services and Education, Councillor Joan Guy, said: 'This will be a very positive step for what is already a great learning environment and a welcome addition to the education provision here in Redcar and Cleveland. The Academy programme has been an exciting journey and I can't wait to see this next phase complete.'

Stockton Council has been appointed by the Government to act as the delivery authority for the build work at the Teesside University sponsored Freebrough and Thornaby academies.

18 May 2012
In the News
Construction starts on college building
Darlington & Stockton Times, 18/05/2012, p.3
Students from the academy's science and engineering club were joined by academy principal Linda Halbert and Prof Graham Henderson, vice-chancellor of Teesside University, the lead sponsor of the academy, for the turf-cutting event on Wednesday.
---
Teesside University sponsorship mentioned
BBC Radio Tees, Ali Brownlee, 17/05/2012, 07:56:12; BBC 1 North East, Breakfast, 16/05/2012, 06:57:30, 07:57:30
A Teesside school has reportedly begun building work on a business academy as part of a partnership with Dragons Den star Peter Jones. Freebrough Academy in Brotton is expected to become a regional hub for the TV stars enterprise network.