News releases
Developing sport stars for the future
Sport science specialists from Teesside University are delivering a unique event in partnership with Tees Valley Sport which will help coaches inspire the region's next generation of sport stars.
More information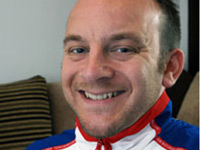 Lee Fawcett
---
The Tees Valley Coach, Leader and Volunteer Conference will take place at Teesside University's Olympia Building from 9.00am to 3.30pm on Saturday 26 May.

Former wheelchair basketball and wheelchair fencer Paralympian Lee Fawcett will be the guest speaker. Lee is also the head coach for Newcastle Eagles Wheelchair Basketball Team and performance coach for the GB Wheelchair Basketball Team.

The conference forms part of the Tees Valley Sport 2012 Legacy and aims to support the development of people working with athletes who are either participating in sport for fun or have the ability to excel in their sport and hopefully attend future Olympics.

During the conference attendees will be able to access a range of workshops delivered by sport science staff from Teesside University, including sessions on testing and monitoring athletes and improving recovery time from injuries.

Victoria Auton, coaching development manager for Tees Valley Sport, said: 'The conference is a fantastic opportunity for people to listen to and meet world class leaders in the practice of coaching.

'They will be able to try out and enjoy top-class facilities at Teesside University and gain an insight from sport science specialists into techniques used for elite athletes.'

For more information on the Tees Valley Coach, Leader and Volunteer Conference contact Victoria Auton on 01642 342287 or email v.auton@tees.ac.uk.
23 May 2012