News releases
Teesside University hosts Sudanese Olympic team
Teesside University is delighted to to be hosting the Sudanese Olympic team in preparation for the London 2012 Olympic and Paralympic Games.
More information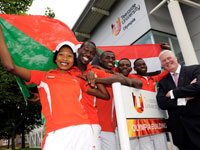 Professor Graham Henderson Vice-Chancellor CBE DL with member of the Sudanese Olympic team
---
Teesside is playing host to ten Sudanese athletes and one coach, with the athletes taking part in track events at the Games.

The team is track training at Middlesbrough Council's Clairville stadium with support from the University's sporting expertise.

Professor Graham Henderson CBE DL, Vice-Chancellor of Teesside University, said: 'We are delighted to play host to the Sudanese team. We have excellent sporting facilities at Teesside University combined with world class professional support services in sports therapy, physiotherapy and physiology which they will be able to take advantage of as part of their training.

'As a multi-cultural University, we are also looking forward to sharing our culture and the Sudanese culture with students, staff and the local community. This is a wonderful opportunity for Middlesbrough and the Tees Valley to play a direct role in the London 2012 Olympic and Paralympic Games.'

Geoff Hodgson, Chair of the London 2012 Nations and Regions Group for the North East said: 'The fact that yet another team have chosen the North East to train for the Games is testament to the Olympic level sporting facilities in this region. We are delighted to be welcoming the Sudanese team of athletes to Teesside University and are sure that they will be given a warm North East welcome.'

Councillor Brenda Thompson, Middlesbrough Council's Executive Member for Public Health and Sport, said: 'It is excellent that Middlesbrough is playing host to an international team. The team can look forward to a warm Teesside welcome and some first class facilities, and I'm sure they will take away many happy memories of their time here.'

The five athletes will be based at Teesside University until mid-July before travelling to London a fortnight before the official start of the Games.

One of the Sudanese Olympic team, athlete Rabah Yousif, already has a base in Middlesbrough where he trains with athletics coach Carol Williams. He has won a number of athletics events in the UK – including setting a new record (45.72 seconds) at the 400 metres event of the Bedford International Games in 2007 then winning the event again in 2008.

Sudanese team
Elnazir Abdelgadir 800 metres
Abd Elmonium Yahya 3/5000 metres
Sadam Suliman 400 metres
Ms. Amna Bakiet 800 metres
Osman Yahya 1500 metres
Ms. Tsabih Mohamed 400m hurdles
5th World Youth Championships 2011
Mahmoud Ibrahim 100/200 metres
Ismail Ahamed Ismail 800 metres Silver medal Beijing 2008 Olympics
Mohamed Younis High Jump Gold medal All Africa Games 2011
Rabah Mohamed Yousif 400 metres Gold medal All Africa Games 2011

10 July 2012
In the News
Sudanese team choose university as its base
Darlington & Stockton Times, 06/07/2012, p.3
The Sudanese Olympic team, which has just ten athletes, has chosen Teesside University as its training centre before moving to the Olympic Village in London later this month.
---
Sudanese Olympic team fly their flag on Teesside
Gazette Live (Web), 05/07/2012; Evening Gazette, 05/07/2012, p.17
Middlesbrough is hosting 10 Sudanese track athletes and one coach before the London Olympics kick-off. The team arrived on Monday, and yesterday could be seen proudly waving the Sudanese flag around Teesside University.