News releases
Media students play a part behind the scenes
Teesside University media students will play a part in a live CBBC programme - The CBBC Olympic Games Challenge.
More information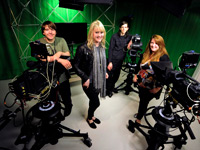 Matthew Hand, Sophie Hardbattle, Brian Train and Becki Pitman, who are among students involved in the broadcast.
---
Children from Middlesbrough are being challenged to organise and plan an event in the town's Albert Park on the afternoon of the Olympic Games opening ceremony.

CBBC will broadcast four programmes across the week, following the children's progress in planning their event, culminating with a live show on Friday 27 July during the Middlesbrough party celebrating the Olympic opening ceremony.

And playing a role in broadcasting these programmes from Middlesbrough will be students from Teesside University's BA (Hons) Television and Film Production, BA (Hons) Broadcast Media Production and BA (Hons) Media Studies, who have secured placements with CBBC.

They will be involved behind the scenes, as the children work with CBBC presenters to organise entertainment, refreshments and devise a sporting activity in a bid to make their town's party the best in the country.

Among Teesside University students taking part is Becki Pitman, 23. The final year BA (Hons) Broadcast Media Production student said: 'We'll be working as runners behind the scenes. We'll be able to offer help with our local knowledge, while making industry contacts too.

'I want to go into events and live production and this will be a great opportunity. It's great for the area too that it's is taking place here.'

Sophie Hardbattle, 19, first year BA (Hons) Broadcast Media Production, said, 'I'm really excited as it will be great experience, as I'd love to work for the BBC in the future. I grew up watching CBBC and it's a real honour to be involved.'

Brian Train, 31, third year BA (Hons) Television and Film Production, said: 'I've been involved in a few independent films, but it's brilliant to get involved with the BBC. My five-year-old daughter loves watching CBBC, so it will great for her to know I've been involved. It's also great that the spotlight has been put on the area by the BBC.'

Matthew Hand, 19, first year BA (Hons) Television and Film Production, said: 'I've done work experience on a Sky documentary, so will bring with me what I learned from that to broaden my experience further. It will be a great way of making contacts and will help to provide an insight into that area of work. The BBC is the country's main broadcaster and it's great to be able to get involved.'

Other Teesside students will include Tom Burton, Jonathan Hooton, Natalie Aves, Jack Staveley, Hannah Cheetham and Chanelle Fishburn.

Gerda Roper, Dean of the University's School of Arts & Media, said: 'There is a lot of exciting work going on across the School and we're delighted that our students will be involved in the BBC broadcasts. It is a fantastic opportunity for our students to really show what they can do, while gaining valuable industry experience.'

Helen Bullough, head of CBBC productions, said: 'Middlesbrough has really taken this project to heart, the enthusiasm and support has been tremendous. The CBBC Olympic Games Challenge will offer something distinctive and memorable for our audience across the UK.'

The CBBC Olympic Games Challenge starts on CBBC on Monday 23 July at 4.30pm. Tickets for the live event on Friday 27 July are available from the BBC website.

12 July 2012