News releases
New business and enterprise centre for Thornaby Academy
Building work is now beginning on a multi-million pound Business and Enterprise (BETA) Centre which will give the Teesside University sponsored Thornaby Academy a central hub at the heart of the institution.
More information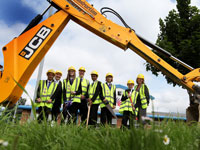 Building work begins on new business and enterprise centre for Thornaby Academy
---
The BETA centre, along with new entrances to the academy and four remodelled and refurbished post-16 learning hubs, has been funded by £5.5 million from the Government's Academies programme.

Thornaby Academy will also benefit from a new Open Learning Centre and significant investment in ICT provision. The majority of the Academy's existing teaching areas will also be significantly remodelled to make to give students a modern and innovative environment for teaching and learning.

Maryssa O'Connor, Principal of Thornaby Academy, says: 'It is exciting to now see work beginning on the major infrastructure improvements which will support our young people in their learning and raise aspirations among students. This is also a fantastic resource for the wider Thornaby community.'

Maryssa will be joined by Professor Graham Henderson CBE DL, Vice-Chancellor of Teesside University – the lead sponsor of Thornaby Academy and students to celebrate the start of the major refurbishment.

Professor Henderson adds: 'I am absolutely thrilled at the progress of the Thornaby Academy under the leadership of Maryssa O'Connor. This is a significant investment in Thornaby Academy which will help to enhance delivery of the institution's specialism in business and enterprise and will ensure that the learning environment is improved and that students and members of the community are able to benefit from access to inspirational facilities.'

Also present will be Councillor Bob Cook, Leader of Stockton Borough Council and Matt Price, Operations Manager from the Carillion, the contractors.

Leader of Stockton Council, Councillor Bob Cook, says: 'It is fantastic to see the building work begin at Thornaby Academy and to see the young people so excited about the first class facilities which are being created for them, their families and the community.

'I'm sure the new learning environments and equipment will support the excellent teaching and learning opportunities and help our young people realise their aspirations and ambitions for many years to come.'

Maryssa, a Teesside University graduate herself, adds: 'The new facilities will give us a fabulous space for assemblies, performances and dining as well as flexible teaching space. We are looking forward to watching it take shape over the coming months.'

Stockton Council has been appointed by the Government to act as the delivery authority for the build work at both the Teesside University sponsored Freebrough and Thornaby academies.

Thornaby Academy is co-sponsored by both Stockton College Consortium (Stockton Sixth Form College and Stockton Riverside College) and Stockton Council.

16 July 2012
In the News
Pupils launch business centre project
Evening Gazette, 18/07/2012, p.23
Pupils were on hand to help begin building work on a multi-million pound business centre for the Teesside University-sponsored Thornaby Academy. The Business and Enterprise Centre, along with new entrances to the academy and four remodelled and refurbished post-16 learning hubs, has been funded by £5.5m from the Government's Academies programme.