News releases
Teesside University leads the way on local standards
Concern over how ethical standards in local government will be monitored since the introduction of a new framework this month (July) has been uncovered by a survey carried out by Teesside University.
More information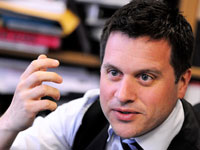 Professor Michael Macaulay
---
Researchers from Teesside University Business School have just completed a national survey to investigate what local authorities think of the new local government standards framework, which came into effect on 1 July 2012.

Professor Michael Macaulay, Dr Gary Hickey and Norjahan Begum studied the framework, which forms part of the Localism Act 2011. It abolishes the previous regime and establishes a new independent advisor to work within local authorities, as well as the new criminal offence of failing to declare a pecuniary interest.

Just 17% of respondents agreed or strongly agreed that the new framework is sufficient to protect members and officers from bullying and 88% of respondents disagreed or strongly disagreed that the new framework provides an adequate array of sanctions for misconduct and poor standards of behaviour.

Professor Macaulay said: 'There has been quite some concern among the local standards community that the new framework was not being sufficiently publicised or even discussed. We wanted to build on the body of research that we have developed over the last ten years, which has looked at the role of the monitoring officer, the notable practices of local standards committees, and a comparative evaluation with the standards frameworks of England, Scotland and Wales.'

He added: 'The original framework was established in 2000 and was the direct result of inquiries into major fraud and corruption scandals in authorities such as Westminster and most infamously, Doncaster.*

'The simple fact is that in the intervening time there have been no equivalent scandals so it is interesting to ask not only why the framework has been abolished but also what the new framework is expected to achieve.'

The survey was based oa national survey of 200 Monitoring Officers, with a response rate of 24% conducted in May 2012. As such Professor Macaulay admits he is cautious about generalising too much about the findings. However. the survey indicates that there are a number of concerns over the new arrangements.

Dr Hickey explained: 'We sent the survey to monitoring officers as we anticipate that they will bear a significant burden in implementing the changes. They have told us that there has been a lack of guidance from the Department for Communities & Local Government, particularly in relation to the new offence of failing to declare a pecuniary interest and the appointment of the independent advisor, and that the timing of the implementation has proven difficult. Final guidelines were only presented to local authorities a couple of weeks before the new framework came into effect.'

He continued: 'What we found quite surprising was the fate of the local standards committee. Our previous research found that local standards committees were taking on a significant number of non-statutory roles for local councils. Our new survey suggests that nearly two-thirds of local authorities will be retaining their committee in one form or another, despite the fact that they no longer have any statutory authority or function. This seems like a really strong commitment to maintaining organisational learning and local expertise, and is another example of how local authorities innovate within national policy contexts.'

The survey was co-designed and administered by second year undergraduate student Norjahan Begum, who was appointed through the university's innovative new student researcher scheme. Professor Macaulay added: 'The scheme has proven fantastic for this project and Norjahan has proved to be an invaluable help. She has been able to develop some real-time research skills with which to enhance her future studies and employment prospects.'

Download the final report into the local standards framework in full

Note

*Doncaster Council's 'Donnygate' scandal ten years ago led to over 60 investigations and 35 successful prosecutions.

24 July 2012