News releases
Part-time study was worth the time for Laura
If you want to know if part-time study is worthwhile ask college lecturer Laura Chapman who combined work with part-time study for her own professional development.
More information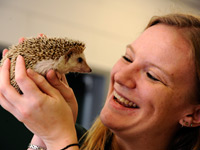 The 27-year-old completed a Teesside University accredited course at one of the University's five partner colleges. This partnership of Middlesbrough, Darlington, Stockton Riverside, Hartlepool and Redcar & Cleveland Colleges with the University offers a broad provision of part-time higher education programmes across the Tees Valley.

Laura, who teaches foundation degree students animal management at Askham Bryan College achieved a first class Teesside University accredited BA (Hons) Education Studies at Darlington College.

"'I wanted to do the degree as part of my own professional development. I completed the course at evening classes, three hours each week. I already had the PGCE (Postgraduate Certificate in Education) so was able to study for a year to top up this qualification," says Laura.

Her experience is backed up by Teesside University Vice-Chancellor Professor Graham Henderson CBE DL, who is working hard – with College Principals and staff across the Tees Valley Higher Education partnership - to get the message out to students and employers that studying part-time is accessible, achievable and above all affordable.

Professor Henderson explains: 'Funding has changed for part-time students who want to begin their undergraduate studies in 2012. For all undergraduate students it will, for the first time, be free at the point of entry as they can now apply for loans to cover the cost of their fees. Students would then only begin making repayments on those loans four years after the start of the course if they are earning over £21,000 a year, and, most importantly, their repayments will be based on their earnings and not the amount they owe, unlike most loans.'

'Employers can choose one of two options to support their employees to study for a part-time degree. They can help those employees undertaking a student loan, perhaps with a commitment to reward completion and attainment in their higher education study with a pay award to help with loan repayments further down the line, or they can opt to pay all, or part of their employee's tuition fee up-front. This means there really needs to be no barrier to part-time study and the benefits are widely recognised in terms of both the positive impact on an employee's career, and the performance of their employer's business.'

Student loan repayments are based on what an individual earns calculated at 9% of income above £21,000. If someone is earning £25,000 they will pay the loan back at £30 a month - £7.50 per week. Professor Henderson is concerned that the message that part-time study remains good value for money is not getting out to employers and employees.

Professor Henderson adds: 'Universities & Science Ministers David Willetts has just praised Teesside University's strong links with its partner FE colleges as an exemplar of how higher and further education can work together to offer the higher skills the region's workforce must have for future economic growth.

'In the past three years our partnership has worked hard to deliver or accredit Teesside University Higher Education provision to over 8,000 employees through workforce development programmes tailored directly to the needs of individual employers, as well as many thousand more students who are not in full-time employment but are seeking to study part-time to develop their career prospects. If we work together, we can continue to offer a breadth of provision to meet both employer and employee needs.'

Laura adds: 'Studying while working can be difficult, but you have to make it work for you. The benefits of doing this degree have really made all the hard work worthwhile.'

Teesside University is holding an open day for anyone interested in part-time study at the University or one of the partner colleges in the Tees Valley on Thursday 13 September, from 2.00pm to 7.00pm at the University's main campus in Middlesbrough.

27 July 2012
In the News
Part-time courses may be answer career-wise
Northern Echo, 19/09/2012, p.22
If you want to know if parttime study is worthwhile, ask college lecturer Laura Chapman, who combined work with part-time study for her own professional development. The 27-year-old completed a Teesside University-accredited course at one of the university's five partner colleges.
---
Part-time study is a total success
Middlesbrough Herald & Post, 12/07/2012, p.15
Looking at students who have studied at Teesside University, where a range of part-time courses are available.
---
Studying part-time could change your life
Northern Echo, 12/07/2012, p.20; Evening Gazette, 09/07/2012, p.17
A look at how for some some, studying part-time has helps to progress their career path, with details of Teesside University's forthcoming part-time open days