Teesside Professor examines impact of economic crisis on young people
An internationally renowned researcher into poverty and youth issues from Teesside University is organising a specialist conference in Europe to examine the impact of the current economic crisis on young people.
More information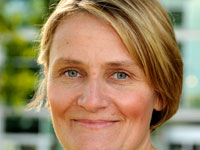 Professor Tracy Shildrick
Professor of Sociology Tracy Shildrick has undertaken many years of research on issues around young people, poverty and social exclusion. She leads the European Sociological Association's 'Youth and Generation' research network and is Deputy Editor of the Journal of Youth Studies.
The conference held by the Youth & Generation research network of European Sociological Association in Manresa near Barcelona this week (20-23 September), will look at how young people have absorbed a significant part of the unemployment and the worsening of labour market conditions.
Professor Shildrick and the European Sociological Association's 'Youth and Generation' research network has organised the conference jointly with the Catalan Youth Observatory.
Professor Shildrick, from Teesside University's Social Futures Institute, explains: 'There is emerging evidence that social expenditure cuts are impacting badly on young people in particular.
'This weakening of the welfare system in a period of labour market crisis leaves young people unprotected and more dependent on the family resources, which may lead to increased social inequalities.
'Because of this, it is essential to improve the efficiency of the policies aimed at young people. A certain lack of knowledge transfer in the youth field has been detected at a European level and at this conference it is time to debate how we can improve this.'
Notes:
Professor Tracy Shildrick is available for interview – please contact Alison Ferst Communications Manager at Teesside University on 01642 738267 in the UK or Pau Serracant on 93 483 83 04 in Spain.
Youth & Generation is a research network of European Sociological Association that is open for participation from youth researchers from all over Europe and abroad. It covers all aspects of sociological and cultural youth research.
The network was founded in Budapest in 1995. The purpose of the network is to advance research and development in the field of youth sociology, transdisciplinary youth studies, and intergenerational issues, and to provide the main forum for sociological advancement and debate within this field on a European scale.
Youth & Generation organises paper sessions at the bi-annual conferences of ESA, mid-way conferences, and other network activities.
---