Pride and passion puts Jonali in the Passport spotlight
Pride in his studies and a passion for helping others has earned inspirational teenager Jonali Qaderi recognition in Teesside University's Passport Pride Awards.
More information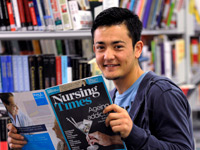 The 18-year-old is among those celebrated by the Passport Pride Awards, which showcases the achievements of students and institutions involved in the University's Passport scheme. Passport encourages students' progress from further education to higher education.
When he arrived in this country as a refugee from Afghanistan aged just 13, Jonali spoke no English. Now living in Yarm with foster parents, he spent a traumatic few years adjusting to life without his family before eventually settling in at school.
Jonali showed great commitment to his studies, but despite initially failing his GCSEs due to language barriers, he studied hard and eventually passed the exams and is now completing A-level Health and Social Care and BTEC Public Services at Stockton Sixth Form College.
He said: 'I spoke no English when I first arrived here and for the first few months I could say little more than hello. But I made lots of friends, which really helped me to quickly learn the language.'
As his academic success went from strength to strength, Jonali felt his communication skills improve and his confidence grow. He now plans to work towards a degree in adult nursing at Teesside University, with the aim of eventually working in the care sector.
Jonali regularly volunteers at a local care home, having completed a placement to gain some work experience. He said: 'I really enjoy volunteering at the care home and working with the residents, it reminds me of my own parents. I get a lot from volunteering and hope it will help me succeed in my studies to work towards a career.'
He said of the Passport Pride recognition: 'I came to an open day at Teesside University and I definitely want to study towards a degree. Taking part in Passport really boosted my confidence.
'My greatest achievement so far has been achieving GCSEs in English, maths and ICT and being involved in the scheme helped to build my confidence further, which helped me to work harder. When I first arrived here and was struggling with the language I never thought that one day I would be working towards university.'
Outside of his studies Jonali is a keen footballer and is involved in cricket and boxing clubs. Although determined and focused on his studies, he also hopes to be reunited with his family back in Afghanistan, having registered with the British Red Cross in the hope of one day locating his family.
Professor Eileen Martin, Deputy Vice-Chancellor (Learning & Student Experience), said: 'Passport is about supporting progression into higher education and it's a joy to see the energy and enthusiasm of these young people as they look ahead to the future. Each year we are astounded by our Passport Pride nominees in terms of their academic ability and the extra lengths they have gone. They really are an inspiration.'
Martin Clinton, principal of Stockton Sixth Form College, said: 'We're extremely pleased that Jonali's commitment, enthusiasm and hard work have been recognised by Teesside University's Passport Pride Awards.
'Jonali has made full use of the opportunities, support and guidance available at Stockton Sixth Form, participating in college enrichment, working voluntarily in the local community and using Study Support to help excel in his chosen subjects.'
---