Six week summer placements inspire students to succeed
Ambitious students have grasped a unique opportunity to boost their employability prospects by taking part in an innovative internship scheme.
More information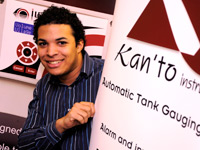 Liam Russell spent his placement at Kan'to Instruments.
Dozens of second year students at Teesside University used the summer break from their studies to secure six week work placements with various companies in the region.
The placements were jointly sourced by the University and NEPIC and were designed to fit in with students' courses and career aspirations.
In total 34 internships were completed by students about to start their final year at Teesside and the feedback has been overwhelmingly positive – with many saying the experience has given them the inspiration to complete their courses and follow their preferred career paths.
Liam Russell, 21, is studying BSc (Hons) Computer Science and spent six weeks working at Kan'to Instruments, a specialist supplier to the chemical, petrochemical, oil and gas industries based in Eaglescliffe.
During his internship Liam wrote new software to complement the company's systems and has also been involved with adding additional features to existing software.
Reflecting on his time at Kan'to Instruments Liam said: 'I was really excited to get the opportunity and it has been a great experience. I have been able to put what I have learnt on my course into practice within a specialist industry.
'It is always beneficial to have relevant work experience to complement your degree and I believe that because of the opportunities the internship scheme has provided, it will help me to secure a job once I have graduated.'
Managing Director Dimitri Papaioannou said Liam's ability and work ethic was just what the company needed.
He added: 'It is vitally important that businesses work closely with universities. Businesses need to be aware of the new subjects and techniques that are being taught, while universities must be aware of what skills are required on a daily basis.'
A great opportunity Craig Causer, 26, is studying BEng (Hons) Civil Engineering and spent his internship at Jacobs Engineering in Northallerton.
He said: 'I have really enjoyed working for the company and have gained a greater understanding of the work involved and what is expected from a professional engineer. The scheme has given me a great opportunity to get some experience in an engineering environment and gain vital career advice from experienced engineers.'
Jane Stevens, 20, completed six weeks working at Royal Society for the Protection of Birds Saltholme and is continuing to work there part-time while she completes her BSc (Hons) Psychology and Counselling.
'Eventually I would like to go into animal psychology so this has been the perfect placement for me,' explained Jane.
Bill Greenwood, Senior Careers Advisor at Teesside University, is delighted with the impact the internship scheme has had, both in terms of boosting students' employability and supporting regional businesses.
He said: 'The feedback we have had about the scheme has been fantastic. The students have really taken it upon themselves to make an impression during their placements and the work they have done has been of significant benefit to the businesses.'
---