News releases
Exciting merger for two film archives
A merger for two northern film archives will bring together ten million feet of film and exciting new opportunities for the public to access rare and historic footage of the people and places of Yorkshire and the North East.
More information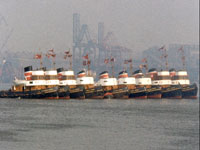 Seahorses: Tees Tugs c. 1965
---
An exhibition and launch event to celebrate the coming together of the North East Film Archive (formerly NRFTA) and the Yorkshire Film Archive (YFA) took place at Teesside University on 16 October.

The Yorkshire Film Archive has been working in collaboration with the North East Film Archive for the past two years, helping to safeguard these unique collections. The planned merger will offer more opportunities for the public to access the film and TV footage.

Archive Director Sue Howard will look after both archives with a base at both Teesside University and York St John University: 'Although we are merging, both archives will maintain their separate regional identities and bases, but we'll be sharing our specialist facilities and expertise in caring for the collections. What is really exciting is how we are going to open up access to both collections – everyone is fascinated by seeing archive footage of the places we live – where we grew up, went to school, worked, or went of holiday.' she explains.

'New outreach initiatives will help us reach communities across both our regions, from Sheffield and South Yorkshire right up to Berwick in the Borders. We have some tried and tested programmes for sharing our collections, from community film shows, to working with libraries and museums, television companies, and of course people can see many of our films online by visiting our websites.

Graham Relton, the archive manager, adds: 'Using digital technology makes this archive material so much easier for us to create new ways of catching glimpses of the collections – for example, at the moment we're testing video postcards where people can scan a QR code on their mobile phones, and send a moving image postcard to their family and friends.'

As well as providing an engaging glimpse of social history, the archive also supplies commercial broadcasters with footage which has included material for a Mark Knopfler documentary, material to support Channel 4's programme on Britain's greatest code breaker Alan Turing and of course plenty of archive material was used for programmes about the Queens Jubilee, and there will be more to come next year as we celebrate the Coronation.

The YFA is already breaking new ground by working with health care professionals to produce Memory Bank – a new range of DVD and online resources using archive films to support people working or caring for people with dementia. Evidence shows how the films prompt memories, encourage communication, and can become a vital tool in reminiscence therapy and life story work. The merger provides a real opportunity to expand this work into the North East of England.

Colin Philpott, Chair of the YFA & NEFA said: 'We are hugely excited about the new opportunities this partnership will bring. Our first job is to safeguard the film heritage of these two regions, by undertaking the vital work of finding and preserving these film collections. But we are not preserving these films simply for posterity, what is most exciting is that we are actively creating new opportunities to see and engage with our collections – these films we not meant to be hidden away in vaults – they are there to be seen and enjoyed by everyone, and that is what we are working towards.'

Professor Graham Henderson CBE DL, Vice-Chancellor & Chief Executive at the University said: 'Teesside University is a dynamic and ambitious university of national renown, but we are also proud of our regional heritage and identity. We're committed to being at the heart of communities and business across the North East and Yorkshire – delivering education and research and reaching out to schools and community partners to connect with them through education, sport and the arts.

'This exciting merger brings additional expertise into our University community to ensure that we maximise the film archives alongside many other manuscripts, documents, academic archives and art collections which we are proud to be guardians of here on our campus. We extend a warm welcome to our new colleagues and partners, and to all visitors and contributors to what I'm sure will be a burgeoning film archive of national significance.'

03 October 2012
In the News
Teesside University coverage
BBC Radio Tees, Neil Green, 16/10/2012, 16:53:22
The archive director at Teeside University is interviewed regarding the merger of the Yorkshire film archive and the North East film archive.