News releases
Deputy Prime Minister visits Teesside University graduate business
A successful Teesside University graduate business which offers an exciting new form of outdoor advertising has received a visit from Deputy Prime Minister Nick Clegg.
More information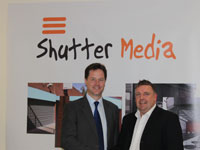 Steve Hale from Shutter Media with Deputy Prime Minister Nick Clegg
---
Shutter Media Managing Director Steve Hale was introduced to Mr Clegg when he visited his business incubation unit at Teesside University's Victoria Building in Middlesbrough.

Entrepreneur Steve has been running Shutter Media for almost two years – he offers colourful vinyl coatings for shop shutters and has won nationwide and global interest in his business – turning unfortunate shop closures into prime advertising sites.

The company is working with the Virgin Media Group, Middlesbrough Council and numerous retailers and architects. Steve has now employed three people. He has also taken on a new apprentice under the government's scheme to earn while you learn in partnership with JobCentre Plus.

'I first looked for an idea that would help cut advertising costs for companies as this budget is usually the first to suffer in difficult times. The business has really taken off, keeping high streets with vacant premises looking attractive.

'The support from Teesside University has been fantastic. As well as subsidised office space, there is a full development programme for entrepreneurs and access to mentors and specific coaching.' Steve has also been backed by UK Steel enterprise, the Tata Steel business support subsidiary.

Professor Graham Henderson CBE DL, Vice-Chancellor of Teesside University, was delighted to welcome Mr Clegg to the University's campus: 'It is excellent for the Deputy Prime Minister to be able to witness first hand the entrepreneurial spirit we are fostering here at the University, and being able to offer a comprehensive menu of support to business start-ups like Shutter Media is a vital part of our contribution to the regeneration of the Tees Valley and the wider North East region.

'As a leading UK university for business engagement, it is fantastic to see people like Steve take the germ of an idea and convert it into a business that can create jobs and enable him to do business in the global market place.'

19 October 2012
In the News
Clegg backs firm's recession success
Evening Gazette, 22/10/2012, p.12; Love Middlesbrough (Web), 22/10/2012
An enterprising Teessider who is turning recession into success has been backed by Deputy Prime Minister Nick Clegg. Teesside University graduate Steve Hale, who runs Shutter Media, met Mr Clegg when he visited his business incubation unit at the university's Victoria Building.