News releases
Teesside University takes Streetlaw into the community
Recent cases highlighting protection of property have sparked debate about the sensitive issue of legal protection for householders confronted by burglars.
More information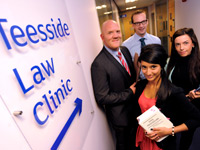 Law lecturer Andrew Perriman, left, with students Harri Singh and Helen Peebles and Mark Simpson, Dean of the University's School of Social Sciences & Law
---
And as the Government continues to look at how such cases are dealt with, it's a timely subject which will be highlighted by Teesside University's newly launched Streetlaw outreach programme.

Streetlaw involves the University's law students visiting schools, community groups, colleges and other organisations to give informal talks and presentations on issues ranging from defence of property to murder, joint enterprise and citizenship.

The presentations are free of charge and can be tailored to the needs of an individual group. The aim is to help the audience gain a better understanding of the law and their rights and responsibilities, while also raising awareness to people about law in their everyday lives.

Teesside University law lecturer Andrew Perriman said: 'As well as providing valuable information to the schools, colleges and organisations involved in hearing the free presentations, the Streetlaw project also allows the students to improve their own research and presentation skills.'

Law students leading the Streetlaw scheme are also involved in Teesside Law Clinic, which recently opened its doors at the University.

Teesside Law Clinic enables LLB (Hons) law degree students to gain practical experience of handling legal cases, while offering a free service to the community in cases where people may otherwise find it difficult to afford legal advice and representation.

Since its launch in September, Teesside Law Clinic has been working on around 25 live cases and received over 40 enquiries.

More information about the Streelaw programme and Teesside Law Clinic can be found here.

The launch of Streetlaw also coincides with national Pro Bono week, sponsored by the Law Society Bar Council and Legal Executives to celebrate the contribution of lawyers through pro bono work - which strives to help those falling outside the legal aid system - and explore its role in access to justice.

Andrew Perriman has been invited to speak at LawWorks - formerly the Solicitors Pro-Bono Group - Student Conference at University of Manchester on 10 November. The conference builds on its success of inspiring students and academics to think about starting new student pro bono projects as well as developing existing ones.

30 October 2012