Triple celebration for award-winning graduate
A high-flying graduate is toasting triple success after being crowned Teesside University's Student of the Year.
More information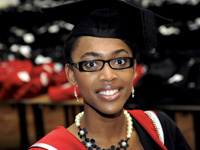 Alecia Cotterell.
Alecia Cotterell was presented with the award shortly after receiving her BSc (Hons) Youth Studies during her graduation ceremony.
Alecia, 23, had already won both the Professor Oglesby Prize for Achievement and Teesside Entrepreneurs Award and was delighted, if not a little surprised, that she completed a hat trick of accolades.
She said: 'When I received the call telling me about the Student of the Year award, I couldn't believe it, having already won two awards.'
'When it sank in I was so pleased - I actually hadn't told my family before I was presented with the award on stage at my graduation, so it was a big surprise for them. They were really thrilled for me.'
Alecia, from Dartford in Kent, originally came to Middlesbrough to volunteer at a local church working with young people when she heard about the youth studies course at Teesside University.
She added: 'I was starting to really develop a passion for working with children and young people when I heard about the course at Teesside, so it was a natural choice to apply. I was impressed and interested by the course content, particularly because a lot of the research we were looking at was based in the Teesside area.
'I'm passionate about facilitating the learning of children from difficult backgrounds and feel strongly about providing them with a platform and, more importantly, a belief that they can go on and achieve anything they want to. My course has provided a stepping stone to help me achieve my career goals.'
The newly-crowned Student of the Year now regards Middlesbrough almost as second home having settled into life here quickly.
She said: 'I'm excited to be in Middlesbrough - there's a growing buzz as it's reinventing itself as a hub of arts and culture.'
Alongside the academic awards, Alecia received the Teesside Entrepreneurs Award for leading Teesside Entrepreneurs Society - a student enterprise society that supports and encourages budding entrepreneurs.
'I became President of the society after participating from the very start,' explained Alecia.
'It's a great way to meet all sorts of people, including mature and international students. It's student-led and aimed at engaging other students with events and challenges where you can really nurture your strengths and develop the type of skills that ordinary students just won't have.'
'I've certainly learned a lot at Teesside that will help take me forward, both in life and my future career. I'm not sure what the future will entail, but I know I'll be working with children in an educational capacity – and I can't wait.'
---
In the News
Triple success toast
Darlington & Stockton Times, 04/01/2013, p.7,
A Graduate is toasting triple success after being crowned Teesside University's Student of the Year. Alecia Cotterell was presented with the award shortly after receiving a BSc (Hons) degree in youth
---
Alecia named top student
Evening Gazette, 02/01/2013, p.9; Northern Echo, 03/01/2013, p.35
A high-flying graduate is toasting a successful year after being crowned Teesside University's Student of the Year, giving her a hat-trick of accolades. Alecia Cotterell, was presented with the award
---
Graduate celebrates hat-trick of awards
Northern Echo (Web), 01/01/2013; Darlington & Stockton Times (Web), 01/01/2013
Alecia Cotterell, 23, was crowned Teesside Universitys Student of the Year shortly after winning the prestigious Professor Oglesby Prize for Achievement and the Teesside Entrepreneurs Award. She said: