Star student shows festive flair with Christmas card design
A Teesside University student is full of Christmas cheer after winning a design competition organised by the University Alliance.
More information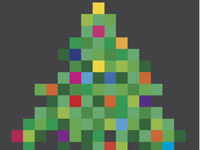 Alexander's winning design.
Alexander Scott, a student on the BA (Hons) Graphic Design course at Teesside, claimed first prize after entering the competition to design a Christmas card with the theme 'Futures'.
His card has now been sent to hundreds of key figures, including MPs, leading business executives and university Vice-Chancellors.
The competition, run annually, attracted over 100 entries this year and was open to staff and students of Alliance universities and participants and required all entrants to submit a 50 word summary alongside the design.
Alexander, of Newton Aycliffe, said: 'I began to look at ways to modernise traditional Christmas nostalgia such as trees, crackers, snow, lights and festive food. From this research I chose pixels and screen based design work as my design's starting point. The tree within my card is made up of digital pixels which form an overall modernised and futuristic looking tree.'
A spokesman for the University Alliance said: 'The standard of entries to our competition this year was exceptionally high. It is fantastic to see the huge creativity amongst staff and students at Alliance universities and especially Teesside University. Alexander's entry stood out from the others and he is a worthy winner of our Christmas card competition.
'Our theme this year was 'futures' to fit with our university_vision project which is looking at the challenges and opportunities facing universities in the future and Alexander's design embodied our theme perfectly.'
---
In the News
Star student shows festive flair with Christmas card design
Love Middlesbrough (Web), 22/12/2012; Darlington & Stockton Times (Web), 23/12/2012; Northern Echo (Web), 23/12/2012; Northern Echo, 27/12/2012, p.105
A Teesside University student is full of Christmas cheer after winning a design competition organised by the University Alliance. Alexander Scott, a student on the BA (Hons) Graphic Design course at T
---
Alexander's design is the future
Evening Gazette, 27/12/2012, p.22
A Teesside University student is full of Christmas cheer after winning a card design competition. Alexander Scott, a student on the BA (Hons) Graphic Design course, claimed first prize after entering