It's not too late to get your place
Teesside University is reminding students making late applications to university to visit its Clearing website as it is not too late to find a course.
More information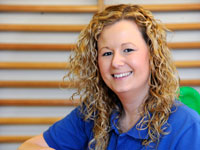 Lauren Haworth who came to Teesside University through clearing.
The website allows students to get the most up to date information about the courses available, great accommodation and fantastic facilities at the University.
It wasn't too late for Lauren Haworth who now works full time as a Senior Physiotherapist for NHS Leeds Community Healthcare as well as for Bradford Bulls, a professional rugby league club in the Stobart Super League, after graduating from Teesside.
Lauren said: "I'm a senior physiotherapist in community paediatrics working with children with complex long-term conditions. I've been in this role for four years, previously working as a rotational physiotherapist. Without my degree I couldn't do the job I do today.
"I came to Teesside University through clearing and wasn't sure what I was letting myself in for. I can honestly say now it was the best thing that happened to me – I'd never change my time at Teesside.
"I had to complete a number of placements during my degree – the University's provision was exemplary. They often involved a great deal of travelling but this was far outweighed by the learning and skills I developed. The School of Health & Social Care has state-of-the-art facilities and the University's services are faultless. Studying at Teesside is just an amazing experience."
Courses which still have limited places available can be viewed here along with advice on how to apply and answers to many frequently asked questions.
Professor Eileen Martin, Deputy Vice Chancellor for Learning and Student Experience at Teesside University, said: "This can be a stressful time of year for students, but there is no need to panic as at the University we have many ways in which we can help students making late applications.
"Our advice is always to get in touch. We have a team available to make sure students and their parents get the expert advice and help they need."
A free helpline will also be available on 0800 952 0226.
General enquiries about courses can also be made on 01642 384228 or email registry@tees.ac.uk
---
In the News
Advice on hand for A-level students
Northern Echo (Web), 15/08/2013
Advice about finding a place in higher education is available at a clearing event on Saturday August 17 at Teesside University.
---
Study for a full or part-time degree
Metro (Yorkshire), 13/08/2013, p.36
Teesside University has a hotline for students wanting to find out about undergraduate and postgraduate study.
---
Study at Teesside University
BBC Tees, 15/08/2013, 7.15am, 5.20pm.
Michael Lavery, Director of Marketing & Student Recruitment, said advice and information is on offer for A-level students still seeking to secure a place in higher education.
---
Advice to students
Real Radio Teesside, 15/08/2013
A-level students who have received their results but still seeking to secure a place in higher education are urged to contact Teesside University, which can offer a wealth of information and advice.
---
Don't panic over late university bids
Evening Gazette, 13/08/2013, p.4
Teesside University is preparing for A-level results this week by reminding prospective students not to panic about late applications.