Students highly recommend Teesside University
Teesside University is highly recommended by those who know it best – its own students.
More information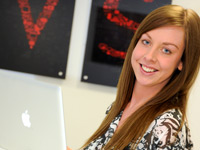 Teesside University graduate Sarah McCormick.
Nine out of ten students say they would recommend Teesside University to others in the 2013 National Student Survey (NSS).
The annual survey gives undergraduates the chance to rate their university and subject across a whole range of areas including teaching, assessment and feedback, academic support and personal development.
Overall satisfaction remains consistently high with Teesside University performing well and the Students' Union is one of the best in England with a top ten rating and 14% above the national average.
Students studying Diagnostic Radiography are the most satisfied in England, Fine Art is ranked in second place nationally and Design is in the top ten of English universities. Occupational Therapy and Physiotherapy are also both ranked in the top ten nationally.
Teesside continues to score consistently well in a number of significant areas:
• Teaching – 86% (national average 86%) • Assessment and feedback – 78% (national average 71%) • Learning resources – 89% - (national average 85%) • and IT resources over 90% satisfaction
Vice-Chancellor Professor Graham Henderson CBE DL said: 'We are acutely aware how important peer recommendation is, so it is fantastic to have such a high satisfaction rate amongst our students, which proves that our continuous commitment to offering a high quality student experience is giving our students what they expect and need from the University.
'The wider results confirm that colleagues across the University are dedicated to supporting our students and to discovering new ways of improving all aspects of their experience with us – support that continues long after graduation.'
John Pinkney, President of the Students' Union, said: 'We're obviously delighted to see that the Students' Union is rated so highly again this year by students. It's a testament to all the work student officers and staff do, as well as the first rate partnership we have with the University, a key factor in developing and improving the student experience.
'It's also very pleasing to see how generally positive the feedback is, especially in key areas like teaching and resources, it's clear the University continues to provide excellent value for money for students and we'll work closely with the institution to ensure that standards remain exceptionally high.'
Teesside Graduate Sarah McCormick is now public relations and events manager with Visualsoft eCommerce and she chose to study at Teesside because it was recommended to her by friends.
Sarah says: 'I chose to study marketing and public relations because it sounded exciting and varied and Teesside University came highly recommended by friends who had successfully completed their studies there.
'My degree was really enjoyable which I wasn't expecting. My tutors and lecturers were all really helpful and friendly – nothing was ever too much trouble. The social side of University was great fun too – I made a lot of close friends.
'Also my time at Teesside University definitely prepared me for the world of full-time work.'
---
In the News
Students grade uni highly
Evening Gazette (Teesside), 14/08/2013, p.16
Nine out of 10 students say they would recommend Teesside University to others in the 2013 National Student Survey. The annual survey gives undergraduates the chance to rate their university and subje
---
Students highly recommend Teesside University
B Daily (Web), 14/08/2013
Teesside University is highly recommended by those who know it best – its own students. Nine out of ten students say they would recommend Teesside University to others in the 2013 National Student Sur