Skydiving Entrepreneur recruited for Pinewood Studios Feature
A skydiving entrepreneur has just returned from the world-famous Pinewood Studios, home of James Bond and Harry Potter, where he was recruited to work on a new multi-million pound film project.
More information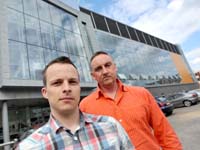 Blair Stent (left) and David Jeffries
Blair Stent, a DigitalCity Fellow at Teesside University and founder of film production company 'The Office Above', worked on Ex Machina which is currently in production.
Ex Machina is directed by Alex Garland, the writer of novel The Beach and scriptwriter for films 28 Days Later, Sunshine and Dredd, based on 2000 AD's Judge Dredd series.
Blair, 33, of Middlesbrough, was recruited to work on the film via David Jeffries, head of the University's DigitalCity Innovation (DCI) initiative. David explained: 'I was asked by a good friend in the film business if I knew anyone with the expertise to operate remote-control cameras in a live studio environment and I immediately thought of Blair.
'Blair's technical abilities coupled with his professional attitude made him the ideal candidate for the job.
'The experience is exactly the kind of real-life hands on business learning we work to achieve at DigitalCity Innovation.'
Ex Machina follows a billionaire tech maverick's employee, True Grit and Harry Potter star Domhnall Gleeson, who is picked to join his boss for a week at a private villa. There his employer involves him in an experiment with a prototype robot, played by Anna Karenina star Alicia Vikander. The exact plot is however, currently being kept secret.
On the film Blair had to remotely operate several cameras at once and be able to make them move precisely both together and individually.
The young entrepreneur honed his craft whilst working as a professional skydiver for over 10 years. Filming people's experiences on skydives, he explained, was excellent training for working on the film.
Blair said: 'When you film sky-diving there is absolutely no margin for error and there is only one opportunity to get the shot you need. Once the moment's gone, it's gone. I would have to take the film as people jumped from the aircraft and descended. Then I'd have to speed down to land ahead of them and make sure I could film their landing.
'There's a similar pressure working on a feature film. There are hundreds of people all depending on you getting what you're doing right at the given moment.
'If you mess it up it sets the film behind schedule and everyone has to start that scene over again from scratch.'
Blair said that the experience was an extremely useful one from the point of view of his business. He added: 'Pinewood is a legendary studio – it's the centre for the British film industry and to have the professional experience of working there with David was something I couldn't have realised on my own.'
David Jeffries said: 'The DigitalCity Fellowship programme is all about equipping entrepreneurs to achieve the best they can in their chosen field.
'Taking your passion and turning it into a business from scratch is an incredibly difficult thing to do.
'Our job at DigitalCity Innovation is to give fellows the edge over other competition and to help equip entrepreneurs with the experience, knowledge and skills that they need to succeed.'
---