Teesside design work boosts national campaign
Innovative work by graduates from Teesside University is being showcased as part of a national campaign to support design-led research.
More information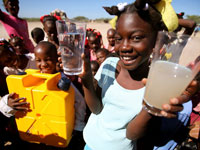 The work includes the world's first lifesaver water bottle and a customised wheelchair for children in Guatemala.
A new report by the University Alliance, in partnership with the Intellectual Property Office, is calling for an increase in support for design-led research.
Entitled Design&: Creating the Future, the report calls for UK design to become a key element of the Government's Industrial Strategy, warning that the future growth, wealth and health of our economy will depend on the creativity, innovation and enterprising spirit of UK design.
Design&: Creating the Future was launched with a special event at the Design Council in London this week where a range of unique and innovative work from around the UK was on display.
Teesside University was personally asked to exhibit two pieces of work at the showcase event – the LIFESAVER bottle and the Design Without Borders wheelchair.
The LIFESAVER bottle is the world's first water bottle to remove all bacteria, viruses, cysts, parasites, fungi and all other microbiological waterborne infections without the aid of any foul tasting chemicals, or the need for any power or UV light.
It was designed by Matthew Hulbert, a Teesside University alumnus who is now an Associate Lecturer on the Product Design programme.
Teesside University Product Design graduate Jannicke Rogne was part of a team that worked in partnership with the Guatemalan charitable foundation Transiciones and the Norwegian organisation Design Without Borders to develop a pediatric wheelchair customised to the needs of children in Guatemala.
The LIFESAVER bottle and information and images about the wheelchair were both on display as part of the showcase event to highlight impactful design research.
Rob Burton, Principal Lecturer in Design at Teesside University, said: 'We wholeheartedly endorse the report from the University Alliance and believe that UK design can be a key contributor towards economic growth.
'Here at Teesside University we are producing the designers of the future and the work that we see on a daily basis is remarkable. Not only do students and graduates produce new designs that can go to market, but they are coming up with ideas and products that have a positive and direct impact on society.
'To have design work by Teesside University graduates on display at this national launch event further strengthens our reputation as a leading institution in this specialist area.'
Libby Hackett, Chief Executive of University Alliance, said: 'Many of the grand challenges facing the UK require new and innovative research, bringing together many different disciplines to find new solutions.
'The design sector has the potential to contribute huge amounts to the UK's economic growth, yet it is not currently part of the Government's Industrial Strategy. The design sector must become key to the Government's Industrial Strategy in order for us take full advantage of this high growth area.'
---