Adam builds web business for bodybuilders
A bodybuilding graduate has launched his first business offering advice and deals on sports supplements as he pursues a career in the gym.
More information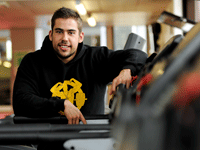 Adam Foster, founder of Cheap Protein Discount Codes
Adam Foster, 23, graduated from Teesside University in 2011 with a BA (Hons) Business Management with first class honours and has since earned an MSc in Marketing Management in 2012.
Since graduating, Adam has worked in digital marketing roles for a number of North-East based firms and eventually hopes to open his own gym in the future. He has already sought advice from the University's Enterprise team about forming a business plan to achieve that goal.
'My education at Teesside got me started working within the marketing field', said Adam. 'Studying definitely prepared me and helped develop my marketing skills. It gave me a good focus and mentality for everything I'm doing now.'
In the meantime, Adam has set up Cheap Protein Discount Codes to collect information about shopping for protein and other bodybuilding supplements online. The website collects price comparisons, discount codes and reviews for leading brands and blog posts about diet and nutrition.
Adam explained: 'Having trained since I was a teenager, I realised quite early on the importance of having a solid diet to get the most out of my workouts, and how supplements could help me maximise my progress in the gym.
'Many high street retailers do not carry a wide range of supplements, and the ones they do are often overpriced. This can leave inexperienced lifters lost as to what they should be taking.
'By sharing my progress and reviewing products on YouTube, I was able to form working relationships with a number of top UK sports supplements retailers to pass on discount codes, allowing consumers to save money on their purchases.
'Based on my own experiences, I try to provide people with as much information as possible about these supplements, so they can make an informed decision before spending money.'
Adam started working out when he was 16 and trained seriously throughout his time studying at Teesside. He has competed at several bodybuilding contests including last month's National Amateur Bodybuilders Association (NABBA) 2014 British final in Southport, where he was placed sixth in the country in the Novice class.
His site also offers advice blogs for beginners who are hoping to either gain or lose weight through working out.
Adam added: "Bodybuilding and working out is my biggest passion, so researching and producing content for the website never feels like work."
This project is part financed by the European Regional Development Fund (ERDF), managed by the Department for Communities and Local Government.
The ERDF Competitiveness Programme 2007-2013 is bringing over £300m into the North East to support innovation, enterprise and business support across the region.
---

---
In the News
23 year old Teesside graduate builds web start-up for bodybuilders
Bdaily [online] 23/06/14
A bodybuilding graduate has launched his first business offering advice and deals on sports supplements as he pursues a career in the gym.