North East business leaders to benefit from winning methods behind Team GB
One of the world's leading sports psychiatrists is to pass on his winning methods to small business owners in the North-East.
More information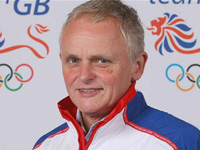 Professor Steve Peters
Professor Steve Peters, the man behind Team GB's phenomenal cycling success at the London 2012 Olympic games, will be speaking to delegates on Teesside University's Leading Growth programme about how they can use his successful mind management programme to operate with greater control, focus and confidence.
Professor Peters, who is originally from Middlesbrough, has been credited with helping cycling superstars such as Sir Chris Hoy, Sir Bradley Wiggins and Victoria Pendleton reach their full potential.
He is now working with the England national football team and has also worked with Liverpool FC and the Sky ProCycling team, as well as world snooker champion Ronnie O'Sullivan.
His book, 'The Chimp Paradox', has helped elite athletes and business leaders alike conquer their fears and have a deep and clear understanding of their behaviour and natural responses to people or situations.
On Monday, 8 December, at Teesside University's Darlington campus, he will be addressing members of Leading Growth, a nine-month leadership and business development programme aimed at owner-managers of SMEs who are looking to take their businesses to the next level.
Michelle Atkins, Leading Growth Programme Manager, said: 'We are delighted to welcome Professor Peters to Teesside University.
'He has operated at the pinnacle of sport and all the sportsmen and women he has been involved with have gone on to enjoy tremendous achievements.
'I am sure the methods he uses to help world-class athletes to succeed will be of enormous benefit to the business leaders on our Leading Growth course.'
Each business that takes part in Leading Growth benefits from £10,000 worth of specially-tailored support, which includes leadership training, master-classes and one-to-one coaching.
The programme, which is supported by the European Regional Development Fund, has been carefully developed by University experts to ensure there is a rigorous approach to development and rich content which includes input from inspirational industry leaders.
The University is now recruiting for the next cohort of Leading Growth. Any small business owner-manager who is interested in taking part in the programme, or would like to attend Professor Peters' talk on Monday, 8 December, from 4.30pm to 8pm at the University's Darlington campus can contact Michelle Atkins at leadinggrowth@tees.ac.uk.
---