Free conference to develop international markets
European business leaders are to help North East companies grow their international markets at a free conference being held this week.
More information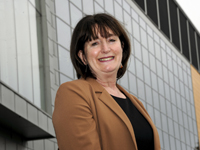 Laura Woods, Director of The Forge
Companies from across the region are invited to take part in North East England in a Global Europe (NEIGE) and learn how to maximise their international opportunities.
The free conference at Ramside Hall, Durham, on Thursday, 12 November, is sponsored by the Enterprise Europe Network, UKTI and Europe Direct North East England.
Teesside University is one of the lead partners in Enterprise Europe Network North East which helps companies build partnerships in Europe and abroad.
The impressive line-up of speakers includes Nicola Bolton, Managing Director of UKTI, Geoff Ford, Chairman of Ford Aerospace and Ford Component Manufacturing, John Barnett, Operations Director at Calsonic-Kansei and Sarfraz Mian, CEO of Neue Schule Ltd.
Delegates at the conference will get help to:
• develop their business and access new international markets
• exploit new tools and explore new routes to market
• meet country experts from the North East and international trade organisations
• find out about export and supply chain support services
• learn from and network with successful North East companies operating internationally
• get access to funding, key sectors, markets, regions and networks
• learn about the changing role of the British Chambers of Commerce here and overseas.
There will also be workshops offering practical advice on exporting, supply chain development and international collaboration.
Laura Woods, Director of The Forge, Teesside University's business hub, said: 'This is a fantastic chance for North East companies to learn about opportunities available to them overseas and we hope as many as possible are able to attend.
'As well as learning about the different overseas markets, the conference will provide delegates with invaluable regional, national and international business connections.'
---
In the News
North East conference to offer tips on exporting
The Newcastle Journal, 11/11/2015; The Evening Gazette, 11/11/2015; The Northern Echo, 12/11/2015
Free conference to help companies develop international markets will be held at Ramside Hall.