National award for business research project
A Teesside University graduate has received a prestigious national award, at a ceremony which celebrates university-business partnerships, for his work on a ground-breaking research project.
More information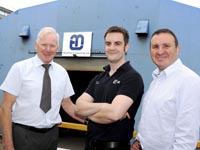 KTP associate Barry Moore (centre) with Dr Keith Bell, Director of Operations at Mech-Tool (left), and Dr Ruben Pinedo-Cuenca (right).
Barry Moore, Business Improvement Manager at Mech-Tool Engineering Ltd, in Darlington, has been named as a Business Leader of the Future at the Knowledge Transfer Partnership (KTP) Best of the Best Awards 2015.
Barry, a BEng (Hons) Mechanical Engineering graduate and PhD student, has been working with academics at Teesside University as part of a KTP to investigate different ways in which Mech-Tool can make its manufacturing processes more efficient.
Mech-Tool designs and manufactures products that protect people and plant from blast, fire and heat hazards.
The KTP project looked at ways to make the different functions of the business communicate better and improve the flow of information. The findings could result in savings of up to £200,000 a year for the company.
KTPs are part-funded by Innovate UK, formerly the Technology Strategy Board, and are a three-way partnership between a university, a business and a graduate.
Typically, over a two year period, the graduate works within the company to complete a research project designed to improve its competitiveness and productivity through better use of knowledge, technology and skills.
The KTP Best of the Best Awards, held at Old Billingsgate in London, recognise the people and partnerships behind the most successful KTP projects in the UK.
The Business Leader of the Future Award is given to the graduate who was able to demonstrate outstanding leadership skills above and beyond the normal expectations of a KTP Associate.
The award is the second major plaudit for the Mech-Tool KTP project which also contributed to Mech-Tool winning the Lombard Award for Best Small to Medium Enterprise at the Institution of Mechanical Engineers' Manufacturing Excellence Awards 2014.
Barry Moore said: 'The KTP provided a fantastic opportunity to work alongside experienced and talented people from Mech-Tool Engineering and Teesside University, applying skills learned at university on a challenging industrial problem. The Business Leader of the Future Award reflects the hard work and dedication of the whole project team.'
The KTP Supervisor was Dr Ruben Pinedo-Cuenca, Innovation Manager at Teesside Manufacturing Centre in the School of Science & Engineering. The centre has a long track record of delivering successful KTP projects and commercial consultancy relevant to industry needs. The interventions have led to transformational results with businesses achieving significant savings and increased revenues.
Dr Pinedo-Cuenca said: 'This project has delivered tangible benefits to the way in which Mech-Tool operates and identified a number of ways the company can operate more efficiently.
'We are delighted that Barry has been recognised with this award. It is a testament to his hard work and dedication.'
Teesside has an established track record for providing high-quality KTPs. In January 2015, 87% of the University's KTPs over the previous five years had been judged 'outstanding' or 'very good' compared with a national average of 55%.
---
In the News
Graduate's top award reflects his 'hard work and dedication'
Northern Echo, 24/11/2015
Graduate Barry Moore named Leader of the Future at Knowledge Transfer Partnership (KTP) Best of the Best Awards 2015.