Cedric came from Hong Kong to study computing
An interest in computing and English culture brought Cedric Fok from Hong Kong to Teesside.
More information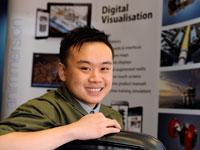 Cedric, 22, who graduates today with a BSc (Hons) Computing, has already secured employment in his adopted town of Middlesbrough, working as a software developer with Animmersion UK based at the town's Boho One building.
Animmersion provides a wide range of 3D animation, VR, data visualisation and technology solutions for business and industry.
Cedric said: 'I decided to come to Teesside to study as I was attracted by the culture after previously visiting England. I did my research before applying and discovered Teesside University has a great reputation for courses in computing and provides an excellent teaching environment, especially for international students.'
Cedric's work with Animmersion involves developing components for different types of marketing software and management systems.
He said: 'I work closely with the design team and 3D animation team and I am currently participating in a project developing airport crowd management dashboards for international airports for one of Animmersions key clients.
'It is a challenging and interesting project to be involved in as I am extremely interested in both aviation and information technology.'
Cedric was among exhibitors at Teesside University's annual ExpoTees showcase of students' work, where he displayed his final year project of a lightweight in-flight entertainment system.
He said: 'During the exhibition I spoke to several visitors from digital companies about my work, which resulted in Animmersion offering me a graduate position.
'I really enjoy working at Animmersion. They have provided lots of opportunities, enabling me to gain experience and learn new skills.'
He added: 'Teesside University has an excellent careers service for students. During my course they provided guidelines of how to create CVs and how to improve our online profiles and interview skills.
'ExpoTees was also an extremely good event for students to hunt for a position. I was lucky enough to be offered graduation positions through that, but for me, Animmersion appealed the most.'
Cedric, who is now considering further study at postgraduate level in a digital, visual related subject, added: 'The tutors and lecturers at Teesside are really friendly and helpful – I really enjoyed my time at Teesside.'
---
In the News
How computing and culture attracted Cedric to England
Northern Echo, 24/11/2015; Evening Gazette, 24/11/2105
An interest in computing and English culture brought Cedric Fok from Hong Kong to Teesside.