Celebrating academic achievement at Teesside University
Around 3,500 graduates will gather at Middlesbrough Town Hall to celebrate Teesside University's annual academic awards ceremonies, taking place this year from Monday 23 November to Monday 30 November.
More information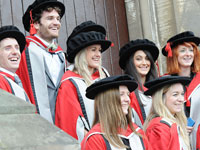 A total of 12 ceremonies will be held over six days, with awards ranging from foundation degrees to undergraduate degrees, masters degrees and doctorates.
Ceremonies will be held each day at 10.30am and 2.00pm with graduates from the University's School of Health & Social Care, School of Arts & Media, School of Social Sciences, Business & Law, School of Science & Engineering and School of Computing celebrating academic success.
The ceremonies will be shown on the big screen in the University's Campus Heart, the big screen in Middlesbrough's Centre Square, televised in the Students' Union and streamed to the University's website at www.tees.ac.uk/graduation.
Honorary degrees will also be awarded to three leading individuals during the academic awards. They are Stockton-born star of stage and screen Stephen Tompkinson; world class rock climber Steve McClure who was born in Saltburn; and industry stalwart Maurice Dawson, chairman of AV Dawson, which has operated in the Teesside area for almost 80 years.
---
In the News
Processions are a matter of degrees
Evening Gazette, 23/11/2015; Northern Echo, 23/11/2015; gazettelive, 24/11/2015; Evening Gazette, 24/11/2015; Evening Gazette, 25/11/2015:; gazettelive.co.uk, 27/11/2015; Northern Echo, 30/11/2015; gazettelive.co.uk, 30/11/2015
Around 3,500 graduates will gather at Middlesbrough Town Hall to celebrate Teesside University's annual academic awards ceremonies, taking place this year from Monday 23 November to Monday 30 November