Teesside ranked among best LGBT employers
Teesside University has been ranked as the top English university for LGBT employees.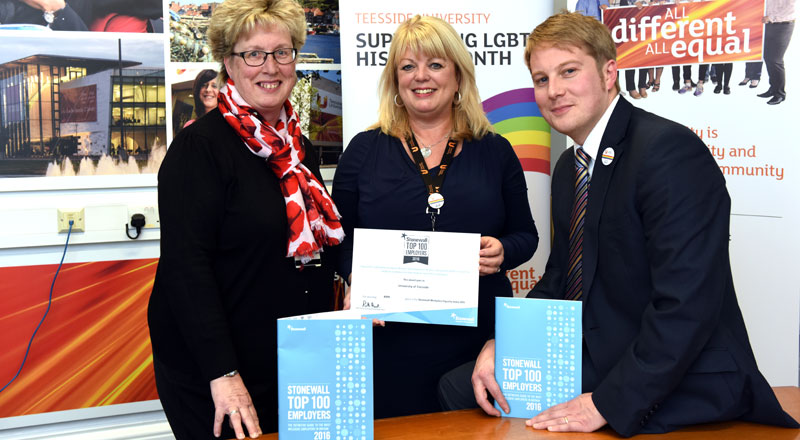 Stonewall, the lesbian, gay, bi and trans equality charity, has published a list of the top 100 places for LGBT employees to work across Britain in 2016, judged on the way each treats members of staff from the LGBT community.
Overall Teesside University is at number 44 in the top 100 employers across Britain, making a massive jump from its position at 111 in last year's list. It is one of just six North-East employers on the list.
Other North-East employers listed in the top 100 include Newcastle City Council, Northumberland County Council, North East Ambulance Service, Northumbria Healthcare NHS Foundation Trust and Your Homes Newcastle.
Michael Lavery, Teesside University Executive Director and the University's Equality & Diversity Champion: LGBT, said: 'It is a remarkable achievement to rise up in the national index in a year by such a degree. It is a significant accolade which puts us as the top university in England for LGBT inclusivity and is part of our wider Equality & Diversity commitment across the University and our communities.
'It is reflective of the dedication, energy and hard work put in by the staff and student community to champion equality and to celebrate diversity. We have developed a supportive and representative network, working in partnership with local authorities, LGBT groups, the Students' Union and our trade unions.'
Margaret McFee, Teesside University Equality and Diversity Adviser, added: 'It is great to know that the work we have all been involved in to promote equality has been recognised. This accolade marks out Teesside University as an employer – and as a first-choice University for students – that is committed to equality.'
Teesside University has also been awarded a Silver North East Better Health at Work Award.
There are four levels to the award – bronze, silver, gold and continuing excellence –which recognise the efforts of local employers in addressing health issues.
As a recipient of the silver award, Teesside is among organisations rewarded for taking a more holistic view of the workplace.
It builds on work staff have been involved in across the University to promote and encourage healthy eating, alcohol awareness, stress awareness and the benefits of exercise.
---
In the News
LGBT praise for University
Times Higher Education, 28/01/2016; Evening Gazette, 28/01/2016
Teesside University named in the lsit of the top 100 employers.
---
Six employers in the North East make the list of best LGBT employers
The Times, 19/01/2016; Newcastle Journal, 19/01/2016; Wales Online, 19/01/2016; ITV.com, 19/01/2016; Mirror.co.uk, 19/01/2016; LondonlovesBusiness.com, 19/01/2016; Newcastle Chronicle, 19/10/2016; Evening Chronicle, 20/012016;YPost08.03.16
Teesside University make the list of best LGBT employers.