Future writers join debate on trans issues
Journalists of the future have been joining a debate on how trans issues are reported in the media.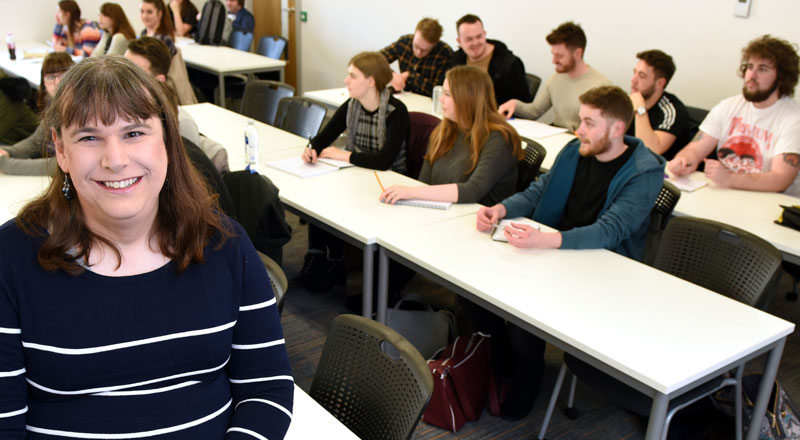 Teesside University's School of Arts & Media welcomed Helen Belcher, founder Trans Media Watch, to talk to students. The Trans Media Watch charity strives to ensure media coverage of trans issues remains clear, accurate and respectful.
Helen, who gave a talk before holding a workshop with journalism and English students, said: 'I've always had the view that education is an investment in the future and the wider we can educate, the better.
'The way the news is presented is often boiled down to a series of inbuilt biased points, written with someone else's filter placed upon it. It's my aim to help to expose those filters.
'When speaking at universities there is an energy which is infectious and it's important that our journalists, writers and leading thinkers of the future go into the profession wanting to make a change.'
Jonathan Brown, Senior Lecturer in Journalism said: 'It's important our students go out equipped with the skills to deal with complex social and philosophical issues which they may encounter. It's been fantastic to see the students engaging so deeply.'
Dr Rachel Carroll, Reader in English, who is working on a book exploring depictions of trans people in fiction, said: 'Our students are passionate about questions of equality and justice. I am delighted that they have had this opportunity to learn more about the vital work done by Helen and her colleagues.'
Helen's visit follows Teesside University's recent ranking by lesbian, gay, bi and trans charity Stonewall as the top English university for LGBT employees.
Stonewell recently published a list of the top 100 places for LGBT employees to work in Britain in 2016, judged on the way each employer treats members of staff from the LGBT community. Teesside was ranked 44th overall in the top 100 and was one of just six North-East employers listed.
Teesside University supporting LGBT
---