Contrasting journeys inspire latest work from poets
Contrasting journeys are taken in the latest work by two writers inspired by the Teesside region.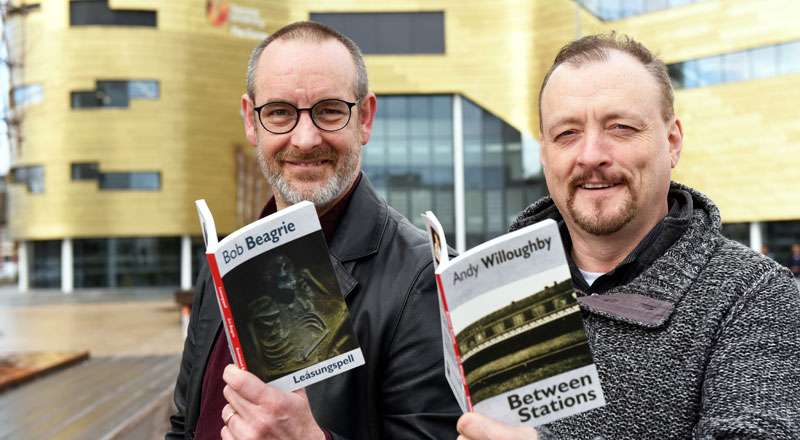 Internationally-known poets and Teesside University creative writing academics Bob Beagrie and Andy Willoughby are launching new books which take inspiration from the area's identity and evolution.
Bob's latest work, Leásungspell, is a poem written in a hybrid of old and modern English drawing from Cleveland, Yorkshire and Northumbrian regional dialects.
Set in the wilds of Northumbria in 657 AD, Leásungspell follows a monk as he transports secret letters from Abbess Hild (St Hilda) on a journey from the Anglo Saxon monastery of Herutea, ancient Hartlepool, to Streonshalh, the Anglo Saxon name for Whitby.
Bob received an Arts Council England grant to develop the text into an audio work and devise a performance version with musicians, which will be unveiled at the book's launch at The British Museum in London on Friday 8 April.
He said: 'The best way to experience Leásungspell is to read the text while listening to the audio recitals of the poem set to music and sound effects.'
Bob added: 'Leásungspell had a long gestation period, going back to when I was writer in residence at Hartlepool Headland working with historians, archaeologists and local people looking at the area's layers of history.'
Andy's new work, Between Stations, intertwines two train journeys - one which passes the industrial landscape between Middlesbrough and Saltburn; the other inspired by an exhilarating journey on the Trans-Siberian Express.
He said: 'I was travelling to Siberia with a group of Finnish poets and visited the town of Khanty-Mansiysk, where the tribal, nomadic people have seen their landscape radically transformed by a rise in industrialisation. This contrasts to the stark industrial decline experienced on Teesside.
'Teesside's industrial links are evident around the world, including the railway tracks I travelled on in Siberia which were made from Dorman Long steel. While many Teesside people followed a family tradition to go into mining or industry, the people living in this region of Siberia faced an edict to become miners due to the rise of industry.'
Andy added: 'I had a battle with cancer two years ago, which I also reflect on, considering the idea of healing and whole journey of life.'
Commenting on the common theme within his and Andy's work, Bob added: 'Both are looking at the identity of Teesside in different ways, either through language, vernacular or social and economic aspects. Both are epic journeys or quests in some ways, with both looking at faith and decline.'
Bob and Andy will promote their latest works, published by Smokestack Books, at the forthcoming T-Junction International Poetry Festival, taking place in Middlesbrough from 14 to 18 April. They will launch their books on Sunday 17 April at 6.30pm in Teesside University's Student Union bar.
Held at venues across the town, including Teesside University, the festival will include international and local poets as well as students and children reading, performing and taking part in workshops and book launches.
Bob and Andy, who are behind Ek Zuban Press, have also recently been awarded Arte Util grant funding to run the Border Crossings creative writing workshops project to bring together local, refugee and migrant writers through collaborative creative writing workshops. The aim is to encourage participants to explore cultural difference and diversity, stimulating a two way creative dialogue around social, political and spiritual concerns.
The workshops, to be held at mima and other venues across Middlesbrough, will run in partnership with ESOL at Middlesbrough Community Learning Service and ICP (Investment in People and Culture), Ek Zuban's network of local writers and students and alumni of Teesside University's creative writing courses.
More about the T-Junction Festival
---