Study leads Lexy on to research path
Lexy Sarginson plans to follow a career path into reproductive sciences after studying at Teesside University.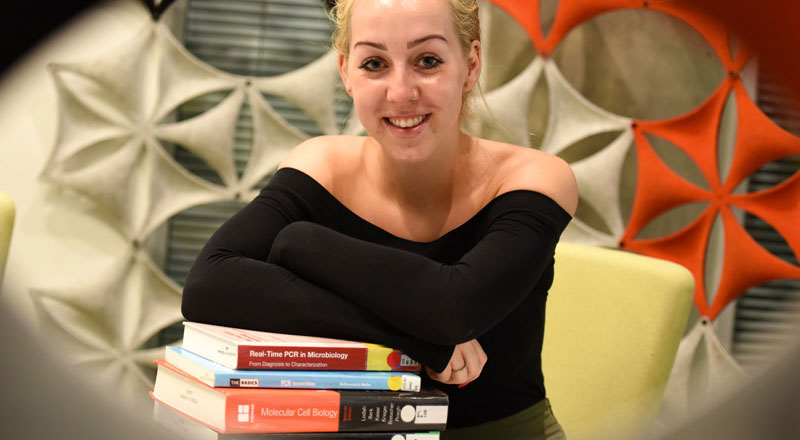 The 22-year-old, from Guisborough, graduates from the BSc (Hons) Biological Sciences, which included a year in industry.
She said: 'I want to continue with research or become involved in embryology through a scientist training programme with the NHS.
'I have wanted to get into this career since school. I find the science surrounding reproduction fascinating and like how it involves biology at the molecular and cellular level, as well as a whole body process.'
Lexy, who feels Teesside has helped to place her on the right path towards her career aims, said: 'I had visited a few other universities on open days, but my first impression of Teesside was of a professional place, dedicated to furthering students' education.
'The course was perfect for me and I knew to further my career, Teesside was where I needed to be. The course, lecturers and opportunities offered have all been amazing.'
She added: 'While completing the degree, I particularly enjoyed the modules in genetics and molecular biology. The University also offered fantastic opportunities regarding work experience and careers.
'I was able to do summer placements with the Wildlife Trust which gave me great research experience and a placement with Cleveland Police's Human Resources, where I was involved with the planning and running of an assessment centre and made friends for life.
'I also carried out a year in industry with Hart Innovations, where I was a member of the research and development team and was involved with several projects relating to point-of-care blood coagulation monitoring.
Lexy added: 'I was really impressed with how varied the course was and the tremendous experience it gave me. Modules during the degree focus on employability and teamwork alongside those with a lot of practical work in the labs, which is a big selling point for this course and I am extremely grateful for all that I have learned throughout my degree.
'I really feel my time at Teesside has prepared me for my future career path,' said Lexy, who is moving to Edinburgh where she will start postgraduate study into reproductive sciences.
'My advice to anyone considering Teesside would be not to hesitate, as in my experience there is so much focus on the students' best interests. I have had an amazing time.'
---
---
---