Qasim ready to go from script to screen
A passion for film as it progresses from script to screen has inspired Qasim Baig to pursue a career in television and film production.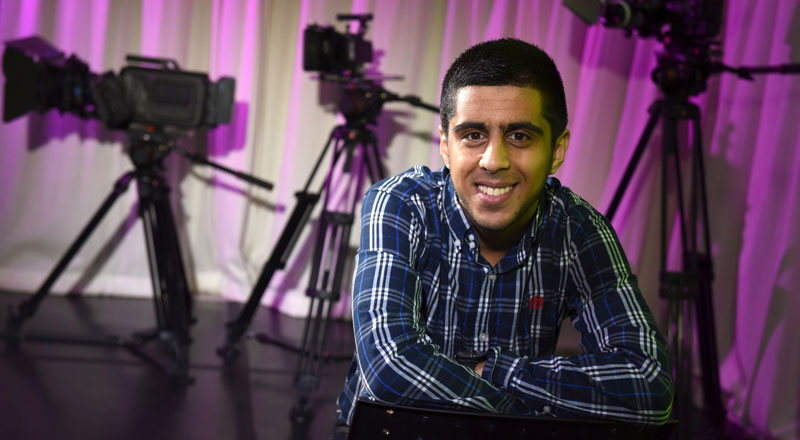 Qasim, 21, from Middlesbrough, graduates with a First Class BA (Hons) Television & Film Production.
He said: 'I decided to study at Teesside after visiting on an Open Day. It's close to home and I loved the facilities available for students studying television and film production.
My experience at Teesside has been the best it could be. I've met new people, made friends for life and had great support from peers and lecturers. Teesside University has a welcoming environment and I'm sad that my time as a student has come to an end.
'I enjoyed the practical side of the degree most, going out into the real world working and negotiating with real people and working in teams and the challenges that brings.
"I also enjoyed the process of making films, seeing the progression from script to screen was incredible and seeing something you've worked months on end, day and night, finally on the big screen during our final year screenings felt like a brilliant achievement.'
During his time at Teesside, Qasim, who was named best producer at the degree final year screening, said: 'I produced three short films in my final year, including Delivering the Lines which won best written project, audience award and best editor. It felt it was quite an achievement following months of preparation and organising, negotiating and problem solving.
"The course really helped to prepare me for my career path. I spent much of my final year on placement with the University's Department of External Relations. During that time I was creating bespoke digital content for the University's social media platforms, reaching thousands of people and engaging with students.
'During the summer I will be working in production, co-ordinating several professional short films for Candle and Bell in Newcastle. The work involves finding extras for films, sourcing trainees and catering and organising logistics and crew.
'Coming to Teesside University was the best decision I made and I guarantee it will put you on the right path towards achieving your dreams. It has given me a wealth of contacts and experience and I look forward to seeing what the future holds.'
---
---
---
In the News
Qasim is ready to make the transition from script to screen
Northern Echo, 19/07/2016; Evening Gazette, 19/07/2016
Qasim Baig, 21, from Middlesbrough, graduates with a First Class BA (Hons) Television & Film Production. He was named best producer at the degree final year screening,