Former jockey saddles up for new career
A former jockey who studied accountancy at Teesside University achieved a national award while completing his degree to help progress in his new career.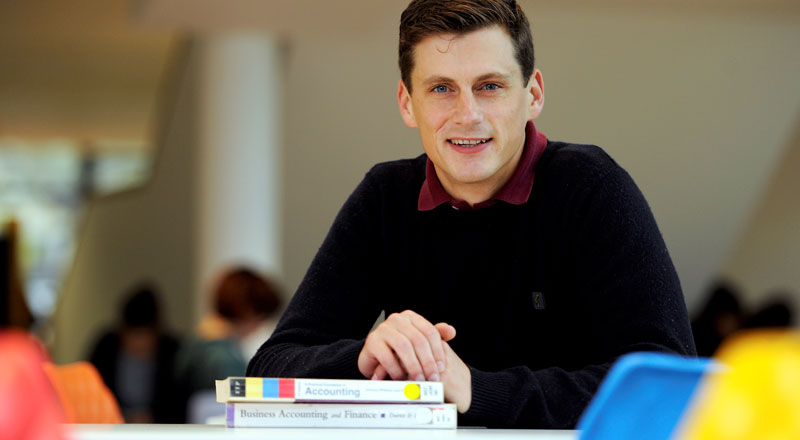 Keith Mercer, 34, who graduates from the BA (Hons) Accounting and Finance, was selected to receive the JETS (Jockeys Employment & Training Scheme) IJF (Injured Jockeys Fund) Progress Award during the final year of his degree.
The IJF award of £2,000 aims to recognise the progress of jockeys embarking on a new career path, with Keith chosen for the award in recognition of his consistent high achievement during his studies. The JETS charity was set up in 1995 to help former professional jockeys achieve a secure future. It is funded by contributions from jockeys' prize money, with additional support from the IJF.
Originally from Liverpool, Keith decided to pursue a career in accountancy having developed an interest in property and finance while still a jockey.
The former jump jockey rode 195 winners including the Scottish Grand National and finished fifth in the Grand National. He was forced to retire through injury and decided to return to study and complete and accountancy degree to help develop a new career.
Keith said: 'I began riding when I was really young and became professional when I was 22. I really loved it, but I always knew I would need a new career at some point, as not many jockeys can sustain their career into their forties as it's difficult due to the physical demands. A lot of former jockeys stay in the industry, but I had a few properties and became more interested in that side of things.
'I chose to study at Teesside as I lived nearby and had visited the campus numerous times to see friends. I could see the campus was constantly being updated and students spoke highly of the lecturers and good organisation within the University.
He added: 'The support from JETS enabled me to expand my knowledge, with the award used to fund Spanish lessons to enhance my business knowledge.'
Keith said of his time at Teesside University: 'The facilities across the campus are really good and the course really prepares students for the career they ultimately want to pursue. I'm was involved in lots of things outside of academic work such as the football society and skiing trips.'
---
---
---
In the News
Ex-jockey holds the reins on a new career
Northern Echo(North Edition) 21.07.16;Evening Gazette(Teesside) 21.07.16
FORMER jockey and Teesside University student achieved a national award while completing his degree to help progress in his new career. Keith Mercer who graduates with BA (Hons) Accounting & Finance.