Students excel in 'university challenge'
A team of Teesside University students have achieved national recognition after impressing judges in a prestigious competition.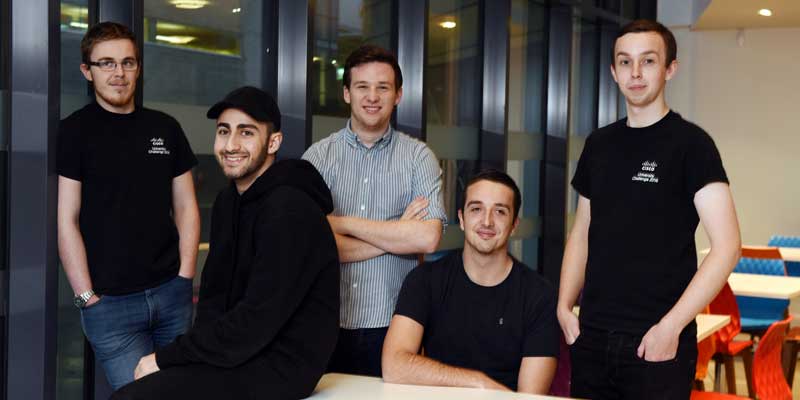 The five-strong team scooped second place in the Cisco University Challenge.
Cisco is a worldwide leader in IT and its annual University Challenge requires students in the digital sector to compete against each other in a 24 hour competition.
Teesside's team was made up of Thor Bunting and Darien Livermore, final year Games Programming students, Ryan Brown, a final year Computing student, Daniel Nouri, who is studying MSc IT Project Management and Aidan Moore, who is studying a top-up Mechanical Engineering degree.
Their submission was titled 'Visual Rescue' and used virtual reality to track people's locations in an earthquake. The application, which can be adapted for varying disasters and unforeseen events, was supported by a business plan, presentation and a prototype.
Daniel said: 'This was a really valuable experience and we are all happy with how we did in the competition.
The judges were really impressed with the Teesside University team and the feedback has been exceptional
'This was the first time a team from Teesside University has entered so it is fantastic to have done so well.'
Ryan added: 'We received a lot of support from the University and really pushed ourselves hard. It is good to have the recognition and know that the work and ideas we have stand up in such a competitive environment.'
Siobhan Fenton, Associate Dean (Enterprise and Business Engagement) in Teesside University's School of Computing, was proud of the students' achievement.
She said: 'The Cisco University Challenge is a rigorous process where students have to test themselves in quite a short space of time.
'The judges were really impressed with the Teesside University team and the feedback has been exceptional.
'Having success like this helps to enthuse and inspire our students as they progress through their respective courses.'
---
---
In the News
Technology enthusiasts win silver at 24-hour contest
Darlington & Stockton Times, 18/11/2016
A Team of five digitally-minded Teesside University students have received national recognition after earning second place in a 24-hour competition.