Enterprising students help campaign to challenge stigma
A group of enterprising students from Teesside University are helping to challenge the stigma attached to mental health issues.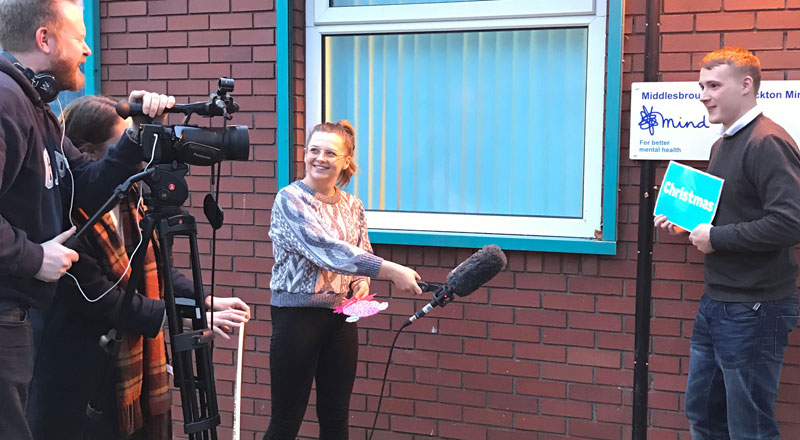 Christmas in Mind, launched by Middlesbrough and Stockton Mind, has involved four Teesside students who have helped with filming and promoting the campaign.
The campaign aims to raise awareness of the mental health struggles which people can face during the festive period and hopes to give a helping hand to those who feel lonely over Christmas.
The students - Kyle Wilson, James Barker, Lucy Tyreman and Natalie Bourne - have supported the campaign from the beginning and hope the videos will relate to people and help them with their difficulties. The campaign runs every day to Christmas Eve.
The aim is to encourage people to carry out acts of kindness for friends, neighbours or loved ones and get people thinking about the small things they can do. Taking time out to speak to people, especially if they are on their own and asking them if they are okay can go a long way to help someone have a happier Christmas.
Sports journalism student, Kyle Wilson, said: 'We're really pleased to be involved in the Christmas in Mind campaign as part of our assignment. We've really enjoyed it, and it's been a great opportunity helping a local mental health charity.
'We hope the video will help local people, even if it's just one person.'
The Christmas in Mind campaign is releasing daily mental health stories, self-help guidance, opportunities and the video to support people who are struggling. Other local services and organisations, will be also be encouraged to participate by spreading the message and promoting the help that's available to people as well as raising awareness in the workplace.
We are really pleased to be involved in the Christmas in Mind campaign as part of our assignment
Chief Executive of Middlesbrough and Stockton Mind, Emma Howitt, said: 'This time of year, with the pressure and stress of Christmas and some people celebrating without loved ones, I think it's really important to let people know that they're not alone. Lots of people do struggle this time of year but help is out there.
'It's fantastic to see local people get into the festive spirit of giving and the little things, like popping along to visit a lonely neighbour, that can make a big difference to people.'
If you or someone you know is struggling or feeling lonely this Christmas, Middlesbrough and Stockton Mind offer a range of services to suit individual needs from one-to-one therapy to workshops. Contact Middlesbrough and Stockton Mind on 01642 257020.
Find out more about the Christmas in Mind campaign
Visit Teesside University during our January Open Day
---
---