Famous John Walker match re-created for popular BBC series
A Teesside University academic is set to feature on popular BBC show Great British Railway Journeys re-creating John Walker's famous friction match.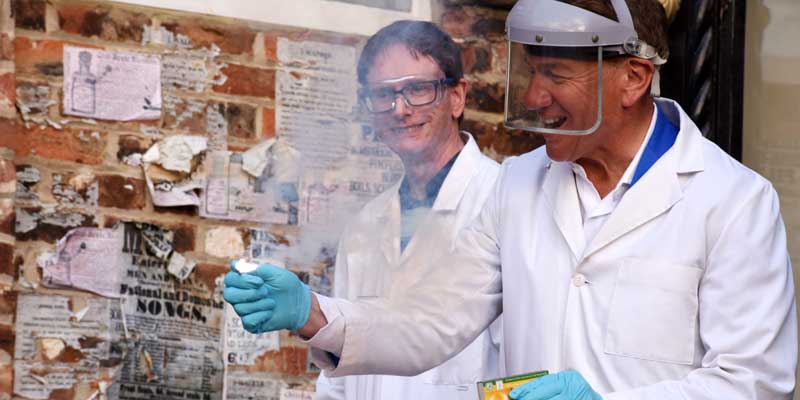 Dr Joe McGinnis, Senior Lecturer in the School of Science & Engineering, was filmed at Preston Park Museum & Grounds alongside presenter Michael Portillo - with the programme to be aired on BBC2, at 6.30pm on Wednesday 4 January.
Dr McGinnis skilfully reproduced the chemical formula of the John Walker match head using the original recipe recorded in manuscripts that are nearly two hundred years old.
He said: 'The friction match was a significant invention which took place right here in Teesside. When you strike a match, you don't really think of it as initiating a chemical reaction, so it's been fascinating to find out what's going on from the chemist's viewpoint.
'The whole story is a fine example of science in action – John Walker made an interesting observation, investigated it in a series of experiments, and produced something very useful at the end.'
The friction match was a significant invention which took place right here in Teesside
John Walker was born in Stockton in May 1781 and was a chemist by trade occupying a shop on Stockton High Street. He experimented with different combustible substances in his home in 1826, and by chance he scraped the mixing stick on his hearth, causing it to splutter and catch fire.
Stockton councillor Norma Wilburn said: 'We were delighted to welcome the BBC. The story of John Walker's friction match shows that Stockton-on-Tees has always been an innovative place to live and work.'
---
In the News
BBC focus on friction match
Northern Echo, p.16, 02/01/17; Evening Gazette, 31/12/16; Public Now (Web), 04/01/17
Teesside University lecturer Dr Joe McGinnis reproduces an ancient chemical formula for the friction match for a BBC television programme.