Carter rocks celebrity coaches on The Voice UK
It was a big thumbs up for a performing arts student as he impressed celebrity coaches on TV talent show, The Voice UK.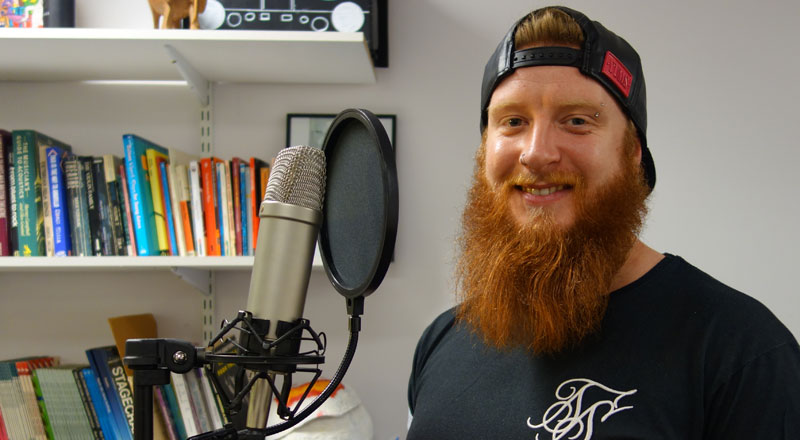 Craig Carter, who is known simply as Carter, left Tom Jones, Jennifer Hudson and Gavin Rossdale all battling for his attention after a jaw-dropping performance of Aerosmith's 'I Don't Want to Miss a Thing'.
Carter, who is studying a Foundation Degree in Performing Arts at Stockton Riverside College in partnership with Teesside University, said: 'I always want to put on a good performance, but this was something quite different.'
Faced with singing to the back of The Voice UK's four infamous chairs, he said: 'The chairs are that big you can't see anything, you have no idea what the judges are doing.'
Offering a launch pad for upcoming talent, The Voice UK sees singers perform blind auditions to four celebrity coaches. If the celebs, all recording artists, turn around it shows they are interested in working with that contestant and they go through to the next round of the show.
'I was nervous anyway because of the size of the crowd,' said the 29-year-old from Billingham. 'But I stayed focused as I just knew it was something I had to do.'
Already having hit what he refers to as 'the key turning points' in the song, Carter said: 'I had started to think that they weren't going to turn around.'
I want to take as much from this experience as I possibly can. I am learning every step of the way
But moments later Gavin Rossdale, lead singer of the rock band Bush, hit the button, followed by Jennifer and finally Tom.
'I had already decided that if Gavin turned I would choose to work with him,' said Carter. 'When I got three, it threw me.'
Sticking with his instinct Carter, a former labourer who decided to return to college last year to pursue his dream of becoming a performer, will now proceed to the TV show's battle rounds where he will go head-to-head with a fellow contestant.
Carter first came to the attention of The Voice UK when the show's talent scouts visited the college last year.
Delighted to have now made it through the blind auditions, he said: 'To be honest I am that much of a laid back person I can come across like I'm not bothered, but I am excited it just doesn't always show.
'I want to take as much from this experience as I possibly can. I am learning every step of the way.'
---
---
In the News
Thumbs up for singer Carter
BBC Tees, 17/01/2017
Performing Arts student Craig Carter vowed judges on ITV's The Voice.