Katherine combined work with postgraduate study
Katherine Joyce combined work with study while completing her master's degree at Teesside University.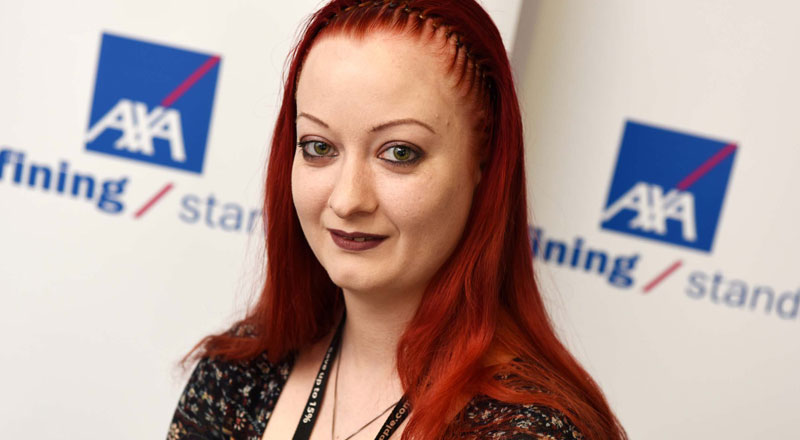 The MSc Computing graduate studied part-time while working at AXA in Middlesbrough. Katherine, 32, from Middlesbrough, said: 'As a software developer, studying at Teesside was ideal as I was able to study close to my place of work.
'My job is really varied. I fix bugs, learn about the latest technology trends and how our company is integrating them into our business, and build tools to improve the system. The degree added to my existing skillset and enables me to better consider the end user when analysing problems and coming up with different designs.'
Katherine added: 'I already have a first class honours degree from Teesside and had a really positive experience, which helped my decision to progress to the MSc. I chose Teesside to continue my academic study as I wanted to specialise in User Experience Design and the University provided modules and a project where I could explore this subject through the master's programme.
'User Experience (UX) is big in the world of digital and is a field which a lot of companies want people to have experience in, as we are now in a digital age which is focusing on putting the customers' experience first. This course enabled me to choose the modules best suited to my learning needs.
'There was a lot of hands-on, practical experience and I learned skills which are directly applicable in industry. I could tailor my study to the areas I wanted to specialise in. We explored real-world examples and there was a lot of practical learning with guest speakers from the industry.'
I learned skills which are directly applicable in industry
Katherine added: 'Teesside University has great facilities on campus and the staff really make themselves available. It is a local university with a global presence.
'The Library in particular is a fantastic facility, and I have watched it evolve. It offers a good variety of up-to-date books and plenty of space to work.
'University events such as Animex and Expotees showcase local talent and I knew that at Teesside I would get great support from the lecturers. I am very proud to have achieved a master's degree with distinction and I am also honoured to have been chosen to give the valedictorian speech at my graduation ceremony.
'I was awarded a Postgraduate Experience Project scholarship and my employer, AXA, also covered some of the financial costs which took the stress away from financial considerations and allowed me to concentrate on my degree.
'I am also thankful to AXA for supporting my journey and enabling me to take the necessary time to attend my classes. I already have a career in the IT industry, but this course helped to improve my knowledge in UX and helped me become a specialist in this area.'
---
---
---
In the News
Master of her class
Northern Echo (North Edition)18/07/2017:
KATHERINE JOYCE combined work with study while completing her master's degree at Teesside University. The MSc Computing graduate studied part-time while working at AXA in Middlesbrough