Degree success for Bahrain police cadets
A quartet of Teesside graduates are well on their way to becoming Military Officers in Bahrain after opting to complete their studies overseas.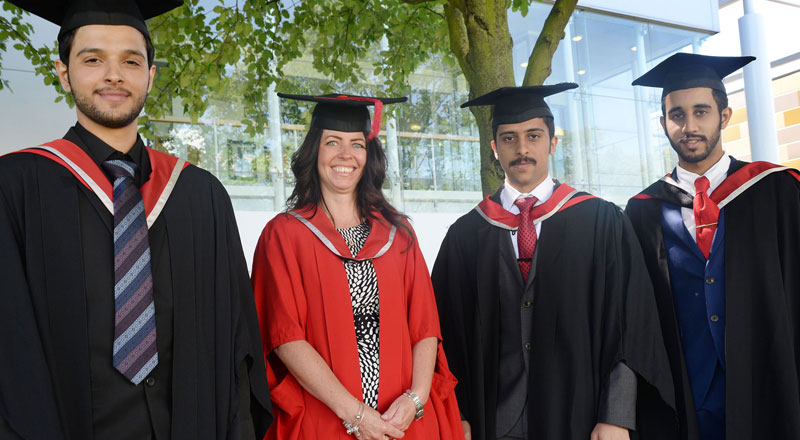 Abdulla Ali, Hamad Alshenow and Turki Althawadi came to Teesside University from Bahrain to study BSc (Hons) Forensic Science.
And after graduating, they have said that gaining their degrees from Teesside is the greatest achievement of their lives.
The three, along with Salem Alfahaid, who couldn't attend graduation, arrived as police cadets. They have now returned to Bahrain to complete their 18 month police training to become Military Officers in the Persian Gulf.
Abdulla, 21, gained a first class honours degree and received the highest marks in the BSc (Hons) Forensic Science cohort.
He said: 'When I first arrived here, I was hoping just to pass – so to get a first class is a lot better than expected.
'It is such a proud feeling and to graduate is the greatest achievement of my life.'
Abdulla praised the quality of the lecturers at Teesside and also the level of support he and his friends received.
'The whole experience at Teesside has been fantastic and we are now able to return to Bahrain and significantly progress our careers,'explained Abdulla.
'It is sad to be leaving and we all have great memories of Teesside University – if I ever had to go back to University in the future, Teesside would certainly be my first choice.'
It is such a proud feeling and to graduate is the greatest achievement of my life
Melanie Brown, Principal Lecturer and Course Leader for the BSc (Hons) Forensic Science, added: 'Teesside University is an attractive destination for students from all over the world and we were delighted to welcome the four students from Bahrain onto our degree programme.
'During their three years with us, they showed a great deal of determination and dedication which has resulted in a highly sought after qualification which will undoubtedly help them progress in their chosen careers.
'It was a great day to see them graduate and to welcome their families to Teesside University too. I wish them all the very best for the future.'
In the latest International Student Barometer Survey, (ISB), international students ranked Teesside University as number one of 42 universities who participated in the UK for overall average satisfaction.
Teesside University was also awarded a Silver rating in the Government's new Teaching Excellence Framework.
---
---