Newly refurbished floors 2 and 3 are now open - we want your feedback.
The completed refurbishment of the Library building will provide huge benefits for the student and learning experience. The floors are now open, please give your feedback via the online survey at: https://www.surveymonkey.co.uk/r/librefurb2017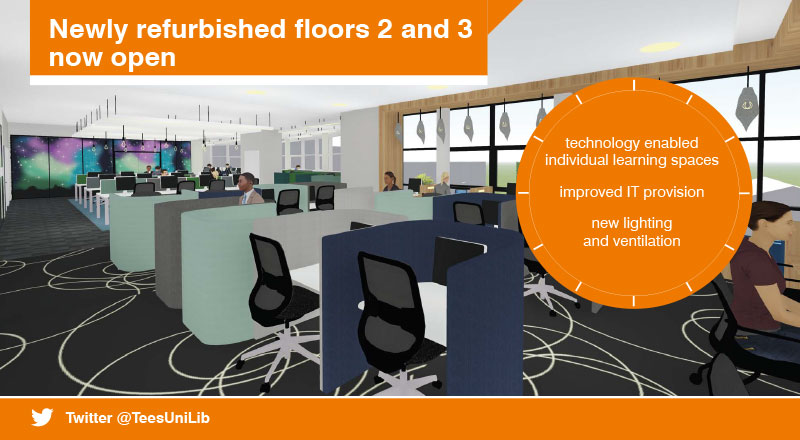 • Improved range of flexible, technology enabled individual and group learning spaces. Post refurbishment, additional study spaces have been provided in the Library. There is a designated silent area on floor 3, and study spaces to support individual quiet study on floor 2 which complement the collaborative space refurbished on floor 1 during summer 2016
• Improved access to, and speed of, ICT. An additional 39 PCs (including 10 iMacs) have been installed in the Library, bringing the total provision to 539. All fixed PCs are high specification.
• Improved accessibility. There is a greater range of accessible study spaces. In addition the Library is moving to a 24/7 model of operation from 12:00 9 October 2017 until 18 May 2018.
• Improved environment including lighting and ventilation. The refurbished environment across all floors includes new and focussed lighting across a range of study environments
• Improved digital and physical support. Roving support is available. This is supplemented by live chat support from professional librarians from 6:45pm – 9:00am 7 days per week.
---
---
In the News
Teesside University library after £7m refurbishment
Gazette Live, 10/10/2017; Evening Gazette, 10/10/2017; Insider Media Limited, 16/10/2017
Teesside University's £7m library makeover is complete.