Yet another world record for ultra-distance runner
After setting another world record, ultra-distance runner and Teesside University lecturer Sharon Gayter said it is just the beginning of what she hopes will be a hugely successful year.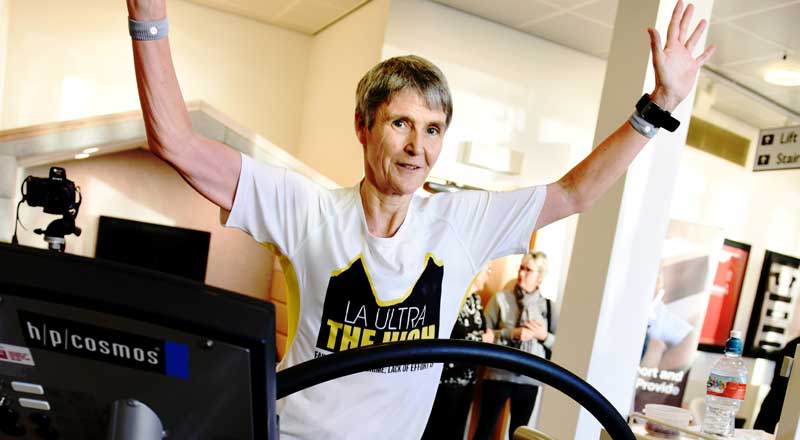 Sharon completed her latest challenge of ten marathons in ten consecutive days on a treadmill, setting a new world record of 43 hours, 51 minutes and 39 seconds.
It is the third world record she has set at Teesside University. In 2011 she broke both the men's and women's world records for the most distance covered on a treadmill in seven consecutive days – a record that is yet to be beaten. She also set the record for the furthest distance on a treadmill in 12 hours.
This is just the beginning of an exciting year for Sharon. In April she is planning to beat the world record for covering 1million metres, or 1,000km, on a treadmill, which will see her having to run three marathons a day. And, later this year, she is hoping to reach a personal milestone of running from Land's End to John o' Groats in under 12 days.
Speaking after stepping off the treadmill, Sharon said: 'It does not feel like I have broken a world record, it wasn't too hard – this was just like training for the other two events I have coming up.
I have got a big year planned and this is a fantastic way to start.
'I have got a big year planned and this is a fantastic way to start. It feels great to have all the support from people here and colleagues at the University.'
During her ten days on the treadmill, Sharon was supported by staff at Teesside University who regularly took blood tests and oxygen levels for research purposes.
And she must have been feeling confident as she completed the final marathon in the fastest time overall, 4 hours, 20 minutes and 58 seconds.
Sharon added: 'I can run marathons much faster outdoors, but it is different on the treadmill and you have to be in the right frame of mind to cope with such lengths of time. I have to do these records now before I slow down too much and I am hoping for a really good year.'
As well as setting a new world record, Sharon's latest challenge also raised money for New Hope Uganda UK.
---
In the News
Runner sets sights on new goal after record
Northern Echo (North Edition) 18/01/2018; Northern Echo (Web) 18/01/2018; BBC 1 North East, 17/01/2018; Evening Gazette, 19/01/2018; Darlington & Stockton Times, 19/01/2018
Sharon Gayter set a new record by completing the challenge in 43 hours, 51 minutes and 39 seconds