Positive student experience sees Teesside University climb higher
An influential national survey on student experience has seen Teesside University rise up the league table.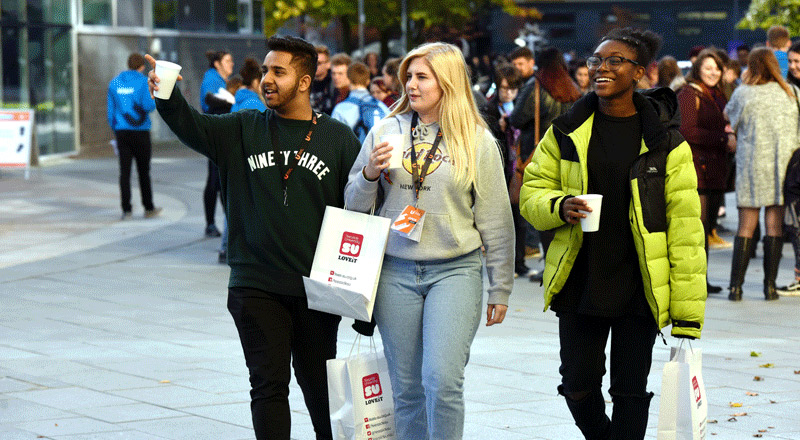 The Times Higher Education (THE) Student Experience Survey 2018 places Teesside at 34 out of 116 institutions, climbing 24 places from last year's survey.
The results are based on responses from over 20,000 undergraduate students who were asked to describe how their university contributed to a positive or negative experience across a range of areas including facilities, accommodation, student welfare and academic experience.
Teesside scored particularly well in the facilities and student welfare categories – placed at 15 and 16 respectively. It is also ranked at 18 for industry connections.
Teesside University's strong position in THE Student Experience Survey builds on recent national league table success. The University rose nine places in the Times and Sunday Times Good University Guide 2018, the highest climber across the five North East universities and last year's Guardian University Guide saw Teesside move up 23 places to 79th, one of the highest climbers.
Professor Paul Croney, Vice-Chancellor and Chief Executive, said: 'It is encouraging to see Teesside University placed so highly in the most recent Student Experience Survey. We are committed to providing the very best student and learning experience and this kind of recognition demonstrates that our students are extremely positive about their time at Teesside University.'
Professor Mark Simpson, Pro Vice-Chancellor (Learning and Teaching), added: 'We place students at the heart of everything we do and the fact that this most recent recognition is based on student feedback is extremely pleasing.
'As a University, we provide a range of opportunities for students to engage with us and we act upon the feedback they provide. A range of initiatives have been implemented as a result of feedback from students and this allows us to build on and improve the experience we are able to offer.'
We are committed to providing the very best student and learning experience and this kind of recognition demonstrates that our students are extremely positive about their time at Teesside University.
Tom Platt, President Education at Teesside University Students' Union, said: 'We're absolutely delighted at another ringing endorsement of the Students' Union. It is a great testament to the superb services and facilities our elected officers, student reps and staff provide day in day out. It is also very pleasing to see the University continue to climb the table, we know from working closely with them how much commitment there is at all levels to delivering the very best possible student experience.'
Teesside University has invested over £270m in its estate in recent years and work has also started on the recently announced £300m campus masterplan which provides a blueprint for how the University campus will develop over the next decade. Upcoming projects include a £12.5m Student Life Building, significant transformation of student accommodation, the first phase of developing a new home for Teesside University Business School, and the £22m National Horizons Centre, a biomedical research, education and skills facility at the University's Darlington campus.
Earlier this month, Teesside University was also shortlisted for three categories in the Whatuni Student Choice Awards, compiled purely on feedback from University students.
Janique Zarneh is a second year BSc (Hons) Forensic Psychology student at Teesside University and featured as a case study in THE Student Experience Survey coverage.
'Teesside University offers differentiated and creative learning settings that cater to individualised learning styles and preferences,' said Janique.
'There is an eclectic and diverse group of students and the supportive and caring staff provide encouragement and help, ensuring everybody can succeed.'
---
---
In the News
Students love Teesside University so much it's motoring up the Times satisfaction league table
Evening Gazette, online, 24/03/2018, Evening Gazette, p12, 27/03/2018
Teesside University climbed 24 places in the national newspaper's influential Student Experience Survey.