Clearing allowed talented student to follow his dream
A successful student who flourished after coming to Teesside University through Clearing has advised young people not to worry if they are still undecided about their options.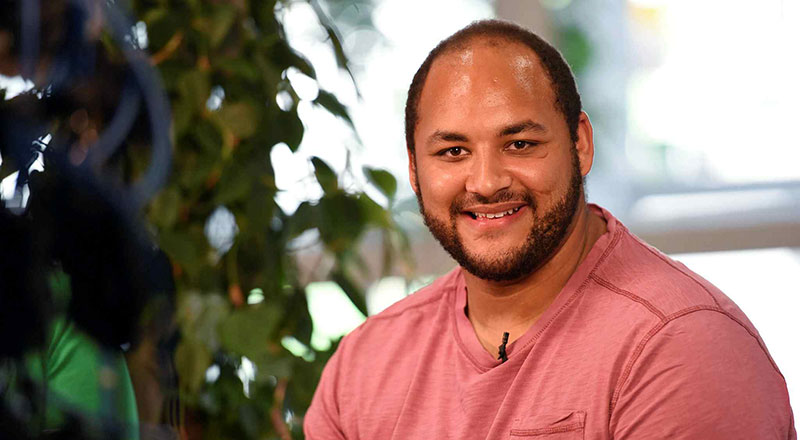 Shaq Ball, 24, was unsure of his next move on his A Level results day, but after researching his options he applied to Teesside University through Clearing. He has since graduated with BEng (Hons) Chemical Engineering and he is now completing his MSc in Project Management.
Results day was initially difficult for Shaq, but he was soon reassured by how straightforward the Clearing process was.
'It was a stressful morning for me. I was upset that my grades weren't what I expected, but the Clearing process made everything easy. It was all very well explained and simple to follow,' explained Shaq.
'The impact it has had on my life has been monumental. It allowed me to study the subject I really enjoyed and pursue the career path I want to.'
Originally from the Midlands, Shaq was unfamiliar with the Tees Valley area but he was excited by the idea of moving away from home and gaining independence. He now says that coming to Teesside University was absolutely the correct decision for him.
He added: 'Living far away from home has allowed me to mature and become independent. It has pushed me to become more confident as I had to make new friends and live in a completely new environment.
'The University has developed so much over the years and it is a fantastic place to study. There are great facilities and lecturers, and there's plenty to do outside of studies. I would recommend it to anyone.'
Now the talented student has secured a full-time role as a Project Manager with Pacifica Group, one of the UK's largest support services organisations. Shaq has advice for anyone who finds themselves without a university place on results day.
'My advice to anyone about to enter Clearing is go for it. Going to university has been one of the best experiences of my life. It's hard work but it's an experience that can't be missed – the doors it opens are unbelievable.'
My advice to anyone about to enter Clearing is go for it.
People enter the Clearing process for all kinds of reasons – they may have changed their minds about which course to study, where they want to go to university, or they may not quite have received the grades they were expecting.
Whatever the reason, there are still plenty of options available and the advice is simply not to panic.
With thousands of students set to receive their results this week, Teesside University is holding a Clearing Fair for those who are still undecided about which route to take into higher education.
A Level results are released on Thursday 16 August and the Teesside University Clearing Fair is taking place this Saturday, 18 August, from 10.00am to 3.00pm.
There will be an opportunity to find out which courses are available, meet the lecturers, talk to current students and get practical advice on how to apply.
As well as the Clearing Fair, Teesside University also has a dedicated Clearing hotline, 0800 952 0226, and a bespoke Clearing website with plenty of information and advice.
David Hudson, Teesside University's Director of Student Recruitment and Marketing, said: 'Clearing is all about opportunities and our focus is on providing as much information and advice as possible to help students find a solution that they are happy with.
'We understand that it can be a difficult time for some people, but the advice is simply not to panic. If you receive your results and are still unsure about your university place, then do not hesitate to get in touch.'
---
---
---