Students develop their CSI skills at live fire demo
Students studying crime scene science and forensic science at Teesside University gained a dramatic insight into domestic fires and investigations at a demonstration on campus.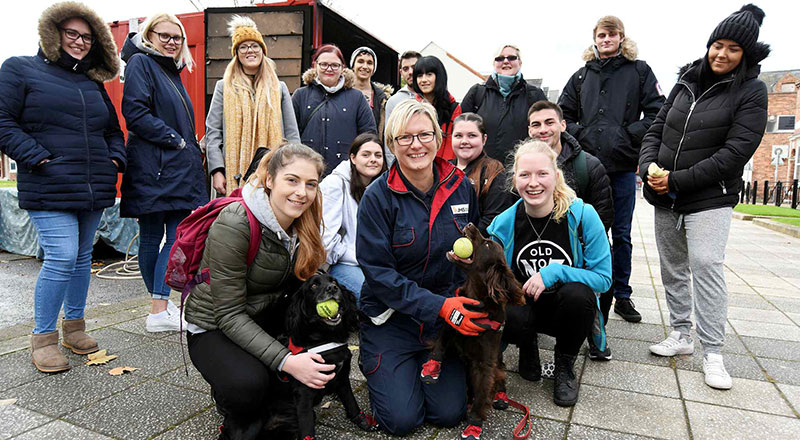 A container unit recreating a bedroom, set up by the JC Fire training company, was parked in Teesside University's King Edward's Square then set ablaze to show how quickly fire can spread.
Students watched as the mock bedroom burned at a moderate level before rapidly turning into a much bigger blaze.
John Caulton, from JC Fire, provided the demonstration and showed the students smoke patterns and how to identify where the fire started. The students observed how objects can shift from their original positions during a fire and had the opportunity to take a closer look at the evidence for themselves.
Along with John was Julie Sykes, a former Control Room Manager in the fire service, and her two working dogs, Jack and Frankie, who help to sniff out accelerants at incidents. After the fire was extinguished, the dogs entered the container to investigate.
Jack and Frankie, both cocker spaniels, are not your typical pet dogs as they live in kennels and have a strict exercise and training routine. Jack is five years old and has been working for four-and-a-half years, while Frankie, Jack's nephew, is two-and-a-half and has just started his training.
Hands-on demonstrations such as this allow our students to come out of the classroom and see how a real fire could develop and, importantly, how to investigate the cause.
Julie said: 'Jack and Frankie attend live incidents to assist in investigations, but the majority of their work is in education at events like this. Many police and fire services in the country can't afford to keep their own sniffer dogs, so they will often call on dogs like Jack and Frankie to help investigate incidents.'
The demonstration was organised by Peter Beveridge, Senior Lecturer in Crime Scene Science. Peter spent 12 years working at Durham Constabulary as a Crime Scene Investigator where he dealt with offences including abduction, homicide and terrorism.
He said: 'After a fire, the smell of accelerants like petrol is much reduced for humans. Dogs, however, can detect accelerants more easily – they are able to find residues at the scene or a trail leading away, and they can even identify clothes offenders have worn.
'Hands-on demonstrations such as this allow our students to come out of the classroom and see how a real fire could develop and, importantly, how to investigate the cause.'
---