Countdown to starting university
Starting university life
You've helped your son/daughter choose the university they want to go to and the course they want to study. You've given them some ideas for their personal statement, guided them through their UCAS application, secured their finances and found them somewhere to live.
But there's still more to do - here is a list of things to consider before your son/daughter starts university life.
Insurance
If your son/daughter is bringing valuable items such as computer equipment they are strongly advised to get appropriate insurance. Most universities and private landlords only have insurance for the building and its contents, not personal possessions.
TV licence
Your son/daughter will need their own TV licence in most situations - although they may only need one for the house rather than each individual. It depends on whether they have a separate or joint tenancy agreement.
Registering with a doctor
Make sure your son/daughter registers with a doctor before they arrive - reassuring you that they have access to medical attention if they become unwell.
Monthly budget
Managing a student loan isn't easy. Consider sitting down with your son/daughter to work out how they will cover their living expenses once they've paid for essentials like rent.

Budgeting
Encourage your son/daughter to take our interactive quiz to find out if they're a spender or a saver.
Take the quiz
Plan their monthly finances together with our budgeting planner.


Download our budgeting planner (excel - 1mb)
Course materials
Most students need to buy some books like core textbooks that are required for the duration of the course. Some courses require students to buy extra resources, such as art materials. Your son/daughter may need to factor this into their monthly budget.
Student bank account
Each high street bank has different rates and incentives for students who open a student bank account. Shop around with your son/daughter to get the best offers. Bear in mind that they need to open an account before they apply for their student loan so that they have somewhere for the money to go.
Getting informed
Have a look at our freshers website with information on how you can support your son/daughter in the run-up to to university - and through their first few weeks.
Find out more on our freshers pages
Living items
Your son/daughter will need to bring items that aren't included in their rent - kitchen utensils and bedding will need to be bought beforehand.
Find out more on our freshers pages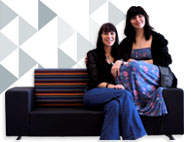 As a mum I want Bex to be at the point where she is ready to leave home with as many life skills as possible.
Part-time job opportunities
Some universities offer opportunities for your son/daughter to get some part-time work while they're studying. Teesside University Students' Union job service advertises part-time jobs for students studying at Teesside University and its partnership colleges. Towards the end of term, graduate jobs are advertised.
Teesside University Students' Union job service
NUS Extra card
The National Union of Students (NUS) offers an NUS Extra card which entitles your son/daughter to offers and discounts in a range of high street stores.
Sign up through the NUS website