Parent interviews
Rachael and Bryony
Meet Rachael and her daughter Bryony. Bryony is currently studying at Hartlepool College of Further Education and plans to apply for either the BSc (Hons) Midwifery or BSc (Hons) Nursing Studies (Child) degree at Teesside.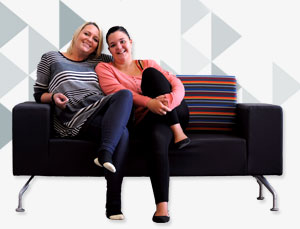 I think is very important to take the journey with Bryony – to be there with her as I have throughout her life so far.
Rachael, how have you helped Bryony choose a course and university?
Rachael: Bryony has always had an interest in nursing. Having studied childcare, I think she's at a stage in her life to go ahead with a degree. I haven't told her what to do but have tried to give her an insight in terms of what I know about Teesside University - that it's close to home. I have friends studying nursing at Teesside and have had great feedback from them.

I think is very important to take the journey with Bryony - to be there with her as I have in throughout her life so far.

I phoned the University and spoke to staff to find out more as well as searching online, university reviews, and I have spoken to a lot of people - building up the information needed. The open day is the final stage.

Bryony: It's good to have my mum's support. She is proud of me and always helps - I'm glad she's there for me. Mum has helped with my personal statement, picking out points to mention. I have looked at other universities but my first choice is Teesside. I sent for a prospectus, got an open day invite and came to have a look and ask questions.
What advice would you give other parents?
Rachael: Parents should find out as much information as possible. The more you know the better. Different universities suit different personalities - my advice is to come to an open day so you and your child can find out if it's what they really want.
Bryony, what are your thoughts on university open days?
Bryony: The open day at Teesside was really useful; I was told about bursaries and was able to ask questions. I would advise people to go to the open day - you can talk to tutors and it all feels real. I am nervous about starting university but the open day has reassured and relaxed me. Everyone has been really helpful.
What has the application process been like for you both?
Rachael: It's been an enjoyable process - and great to be involved in my daughter's future. Now that she has been to an open day she is settled in her mind. I feel really proud and excited for her. It's about letting her take the next step in her life, and helping her get there.

My advice to Bryony is to get stuck in but enjoy it at the same time. I'm here if she needs me but it's up to her to do it now.

Bryony: For me, I've been on a big journey - I didn't think I would ever be here. I'm 21 now and feel ready to start university; you don't have to rush into anything.