Dr Keith Skeoch postgraduate scholarships
Four £2,500 scholarships
In 2013, Dr Keith Skeoch generously instituted a new scholarship fund at Teesside University. From this year we are offering four £2,500 scholarships to students enrolling on postgraduate programmes at the University's School of Social Sciences, Humanities & Law and Teesside University Business School. Scholarships will contribute to the cost of a one-year full-time or two-year part-time master's course starting in 2018-19.
Dr Keith Skeoch is Chief Executive of Standard Life Investments and had been a Director since joining in 1999 as Chief Investment Officer. He has also been on the Board of Standard Life plc since 2006. He was born and raised in Guisborough.
Entry requirements
To be eligible candidates must:
have completed a first degree at Teesside University
meet the academic requirements for their chosen programme of study
not have already completed a postgraduate programme of study
not be in receipt of another Teesside University scholarship in the 2018-19 academic year
How to apply
To apply complete the application form below
Student profile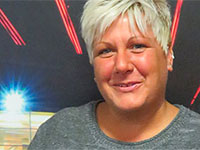 'Not only has the scholarship provided essential financial support but it's also boosted my confidence.'

Application form (word - 141kb)
The deadline to apply for the Dr Keith Skeoch postgraduate scholarship is 27 July 2018 to start your course in September 2018.
Successful applicants will be notified by 31 August 2018.