Student views
Bryony Manning
Bryony's passion for women's health led to a PgDip and her dream job.
PgDip Midwifery Studies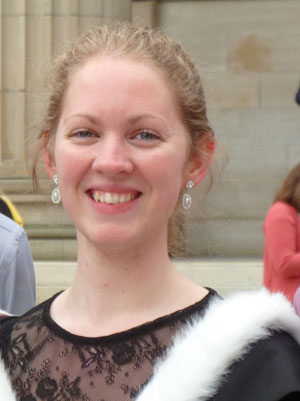 What brought you to study at Teesside University?
After graduating with a BSc (Hons) Nursing from the University of Dundee, I wanted to further my nursing career and fulfil my passion for women's health by becoming a midwife. I found the Teesside University postgraduate course on the internet.
What was the course like?
It has excellent associated placement areas and a perfect ratio of theory to placement to aid a deeper understanding of the midwifery profession. I also attended study days relevant to my course, including a waterbirth, a cardiotocography study day in London and local mandatory training for my trust.
What are you doing now?
I am working in an acute women's health unit at Guy's and St Thomas' Hospital in London. I get the privilege of looking after acutely unwell pregnant women, or women with fertility and gynaecological problems, working closely with specialist nurses, midwives and the multidisciplinary team. This is a very busy unit with a high turnover of patients. I am able to give excellent woman-centred care and have access to a wide variety of specialists. I use extra skills that I learned on the course, such as venepuncture, cannulation, research awareness, and experience in a women's speciality.

Studying at Teesside University has allowed me to fulfil a lifelong dream of becoming a midwife, and has given me an excellent platform on which to build my future career. The prestige and meaning of a PgDip has allowed me to get a job in one of the best hospitals in the country. I intend to go far and be my best in my role as a nurse and a midwife, and Teesside University has allowed me to start that already.