Student views
Henny Folorunso
Henny is completing her MSc Forensic Science before progressing to a PhD.
MSc Forensic Science
'The six-week summer boost placement I did was one of a kind – I don't think I would have the opportunities I have today without it.'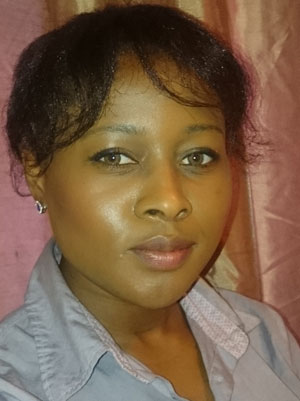 I believe a higher education qualification will help me find a worthwhile job in the future. Apart from the financial benefit of having a degree, the process exposes me to dealing with a lot of people from different backgrounds. I could get this from doing an apprenticeship, but it's slightly different.

I chose Teesside University because it's a well-known university that provides excellent teaching in forensic science. The crime scene house was also a huge incentive for me – a facility with 30 replica crime scene areas. Most of the lecturers are well experienced in various parts of the forensic science field. They are very helpful and encouraging. Their passion for success and improvement is transferred to the students.

I think I became interested in the forensic field when I was still in college. We had a day trip to the Life Science Centre in Newcastle where we learnt about DNA and how it can be used in solving crimes. The CSI TV series helped as well, although watching it now annoys me because I can see all its inaccuracies – but I have it to thank for my choice of course.

I enjoyed all my modules, but I particularly enjoyed microbiology, genetics and molecular biology. I became fascinated with how much there is to learn from the cell, and all the processes that occur with it. I think my course highlight was the project we did during the horsemeat scandal, where I performed research to find the origin of each meat in a mixture of meat.

I am a natural in chemistry-based subjects and enjoyed investigative chemistry, particularly learning about drug abuse, testing for the presence of drugs and performing case studies.

Teesside University's campus is in a great location. It's near the bus and train stations which provided easy access, especially since I travelled from Gateshead in the first year.

The cost of living is very cheap considering I am from Newcastle which isn't far away. Local shops and takeaways always do student discounts which is a bonus. I don't go out much but, when I do, I use the Students' Union. The drinks are cheap and sometimes I get in for a pound.

I was a member of Teesside University's badminton club, representing the University in matches. This improved my sporting skills and I got to meet new people with a similar passion. It also developed my competitive nature and teamwork skills when I played in doubles matches.

I was also vice-chair communication for the crime scene and forensic society. Running the society with others improved my communication, leadership and teamwork skills. I had to devise exciting events to keep the society active. I was really pleased that our society won the award for the best society committee member at the Students' Union annual awards dinner in 2015.

I also recommend Teesside University because of the amazing work of its careers service. The six-week summer boost placement I did was one of a kind – I don't think I would have the opportunities I have today without it. Through the placement I was able to secure my first professional job just two weeks after completing my undergraduate course.

Since graduating from my first degree I have moved on to study a full-time MSc Forensic Science funded by Teesside University. I also work part time as a technical officer at the quality control lab at the University Hospital of North Tees.

I have recently got a fully funded scholarship to study for my PhD at the University of Reading.

My laboratory experience – using gas chromatography mass spectrometry and high performance liquid chromatography techniques, and DNA extraction – was highlighted during my job interview. The interviewers believed that the quantity of lab work I have been involved in, along with my score, shows that I am capable of taking responsibility at my workplace, writing reports and making decisions.