News
Cultural historian's free public lecture
A free illustrated public lecture by cultural historian Dr Barbara C Morden can be heard here at Teesside University.
More information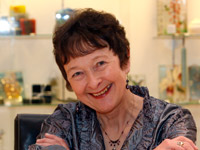 Cultural historian Dr Barbara C Morden.
---
The free illustrated public lecture can be heard at 6.30pm on Wednesday 23 March in Room CL1.87, Clarendon Building, off Southfield Road, Middlesbrough.

Dr Morden, author of the acclaimed book John Martin: Apocalypse Now, is a cultural historian, lecturer and writer in art history and literature. She is a Visiting Lecturer in the School of Arts & Media at Teesside University.

Her book supports the landmark Exhibition John Martin: Heaven and Hell which is currently on tour, visiting the Laing Art Gallery in Newcastle and Graves Art Gallery in Sheffield and features as Tate Britain's major London Winter Exhibition from October 2011 into 2012.

Dr Morden's lecture will appeal to all interested in art and social history, the development of popular culture and the shaping of modern visual perceptions in the digital age.

Places can be booked by emailing m.white@tees.ac.uk or by calling 01642 342002.

15 March 2011
In the News
Author set to speak
Evening Gazette, 15/03/2011, p.3
Cultural historian Dr Barbara C Morden will give a free public lecture at Teesside University.