Activities for adult students
Our post-19 team helps potential students make informed decisions about the best study options and courses for them, by providing a range of opportunities through bite-sized courses, advice and guidance, together with a range of events and activities.
Discovery days
A wide range of subject-specific topics are offered in these interactive workshops. Students take part in a hands-on activity similar to those experienced by first-year undergraduates. It helps students choose a subject they are interested in studying at higher education level.
Our adult discovery days are for mature learners who are studying an access course or similar qualification, are considering returning to education or fancy a career change.
There are no events at this time.
Summer university
Our summer university short courses provide university level study in a range of exciting and interesting subjects. Courses are designed for anyone who wants to pursue an interest, to study for pleasure or to return to study.
More about summer university
Speakers into colleges
Sessions are aimed at a wide audience, including Access to Higher Education and adult Level 3 learners. We understand it's not always possible to release students from college, so let us bring our expertise to you. These formal subject presentations and/or workshops provide subject enrichment - they raise awareness and understanding of a subject and associated careers that your students may aspire to.
More about speakers into colleges
Subject talk
Our subject talks help students get a real understanding of the different subject areas available to study at higher education level. They look at specific courses within these areas, exploring course content, entry requirements and associated careers.
Access and adult learners day
Aimed at adult learners currently enrolled on an access to higher education course, this event will cover applying to university, writing a personal statement and finance and funding information. Students can also find out from current mature students what it's really like to study at university.
There are no events at this time.
Progression talks and workshops
Our progression talks and workshops are usually half-hour sessions delivered either on or off campus. We also offer a range of interactive activities covering transitional issues in a fun and hands-on way.
Choosing a course and a university
This session takes a detailed look at the wide range of higher education routes available. We ask students to think about the most important factors when choosing a course and university. We offer tips on researching suitable courses, comparing universities and places. It puts students in an ideal position to start their research before applying to UCAS.
Introduction to higher education
This interactive presentation identifies what students should assess when thinking about going to university. It covers the benefits of higher education, researching a course and university, and the application process. It's ideal for raising awareness of options available to them, encouraging them to begin higher education research early.
Introduction to Teesside University
An overview of studying at Teesside - we look at courses, facilities, accommodation and student support. It's ideal for raising awareness of the opportunities at university, encouraging them to begin higher education research early.
Personal branding workshop
Whether your students are contemplating employment, training or higher education, the marketplace is extremely competitive and they need to set themselves apart from the rest of the pack. This session asks students to consider the successes of famous brands like Virgin, Bodyshop and Primark and helps them think about how they pitch themselves to potential employers or universities.
Preparing for a UCAS fair
With over 100 universities to choose from, UCAS fairs are an excellent opportunity for your students to speak to several universities in one visit and gather lots of research material. To make the most of the UCAS fair your students are attending, why not invite us in to prepare them. We'll advise them on what to consider, how to plan their day and identify which university stands to visit and what questions they should be asking.
Preparing for university open days
Once your students have narrowed their university options down, they really need to be attending university open days to help them make their firm and insurance choices. Whether they're attending with you as part of a school/ college group or with their parents, preparation is key to ensuring they make the most of the day and get all their questions answered. This session offers hints and tips based on our open day format and is an excellent preamble to open day season.
The student experience
Delivered by trained, CRB-checked undergraduate students, this presentation inspires young people to progress to higher education. It's an informal opportunity for students in Years 12 and 13 to ask questions about higher education. Why not request an extended question and answer session?
UCAS personal statements
During this presentation and interactive session, we highlight the most important elements to include in a UCAS personal statement. We provide hints and tips in producing an outstanding application.
The UCAS application process
This interactive presentation is for students who are about to apply to university. We cover all aspects of your application including writing a personal statement and preparing for university interviews.
Fees and funding
Funding for new students changed from September 2012. In our talks and workshops for students, parents and staff we can explain the funding available for tuition fees and living costs at university and how students will pay back this funding once they have left university. We can deliver sessions as interactive workshops or formal presentations.
Open days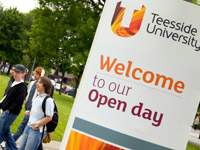 If your students are thinking about studying at Teesside, then they can't miss out on our Open Days. They'll get a real flavour of life here as they tour the campus, view accommodation and meet current students and staff. Family and friends are welcome too.
If you have a number of students interested in Teesside then why not make a day of it and bring a group? We can offer students a great experience at our Open Day with VIP treatment including a pre-visit session unique to your students and pre-registration to avoid queues on the day.
Next event: 17 June
Undergraduate open day