Bradford College announces partnership with Teesside University
Bradford College has joined forces with Teesside University to offer its students degrees validated by the award winning University.
More information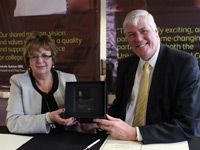 Michele Sutton, Principal of Bradford College and Teesside University Vice-Chancellor Professor Graham Henderson
---
The college is the largest provider of higher education outside the university sector in England and currently offers over 150 degree courses to more than 4,000 students.

Under the terms of the agreement, Teesside University becomes the validating body for the majority of both undergraduate and postgraduate awards from the new academic year in September 2013.

Bradford College Principal Michele Sutton OBE said: "We have been delivering higher education courses for nearly 50 years and are passionate about offering quality degrees for fair fees. We are delighted about this new partnership with Teesside University.

"A review of our higher education provision in 2010 saw the college awarded the highest possible judgement for the quality of our courses by the Quality Assurance Agency. We are delighted that our new partner was awarded UK's best new university for student experience in the Times Higher Education survey 2011. Our shared mission, vision and values will result in a quality and supportive experience for college students."

"Continuing studies into higher education is a huge decision and this agreement will enable our students to continue to benefit from courses which have a vocational and professional emphasis delivered in a friendly and supportive environment. In addition, we look forward to developing the partnership to undertake joint research and staff development."

Teesside University has a long history of working closely with further education partners in the North East and the partnership with Bradford College is the start of a new era.

Teesside University Vice-Chancellor, Professor Graham Henderson CBE DL, said: "This is a really exciting, and potentially game-changing, partnership for both the University and Bradford College. Both of our institutions share a passion for working in partnership with employers and encouraging and facilitating more people to benefit from higher education – placing quality education at the heart of everything we do.

"We are delighted to know that courses accredited by Teesside University will, in future, be taught to thousands of students in Bradford and I am confident that the partnership will be a great success, and will enable even more students to achieve their full potential."

Subject areas offered by the college include Social Sciences & Law, Arts & Media, Education, Engineering, Health, Business and Computing.

Lynn Parker, Head of Educational Partnerships at Teesside University said: "We are delighted to be developing a strong relationship with Bradford College and we are looking forward to working together to establish a long and successful partnership.

"Bradford College offers a wide portfolio of programmes and its ethos of widening participation matches that of Teesside University."

13 November 2012
In the News
Institutions join forces
Telegraph and Argus (Bradford), 13/11/2012, p.18
The Vice-Chancellor and Deputy Vice-Chancellor of Teesside University were on hand at Bradford College to mark an important day in the history of the institution.
---
Bradford College forms new partnership with Teesside University
Telegraph & Argus (Web), 12/11/2012; Telegraph and Argus (Bradford), 12/11/2012, p.13
Bradford College has joined forces with an award-winning university which will validate the degrees offered to its students. Under the terms of the agreement, Teesside University will become the valid